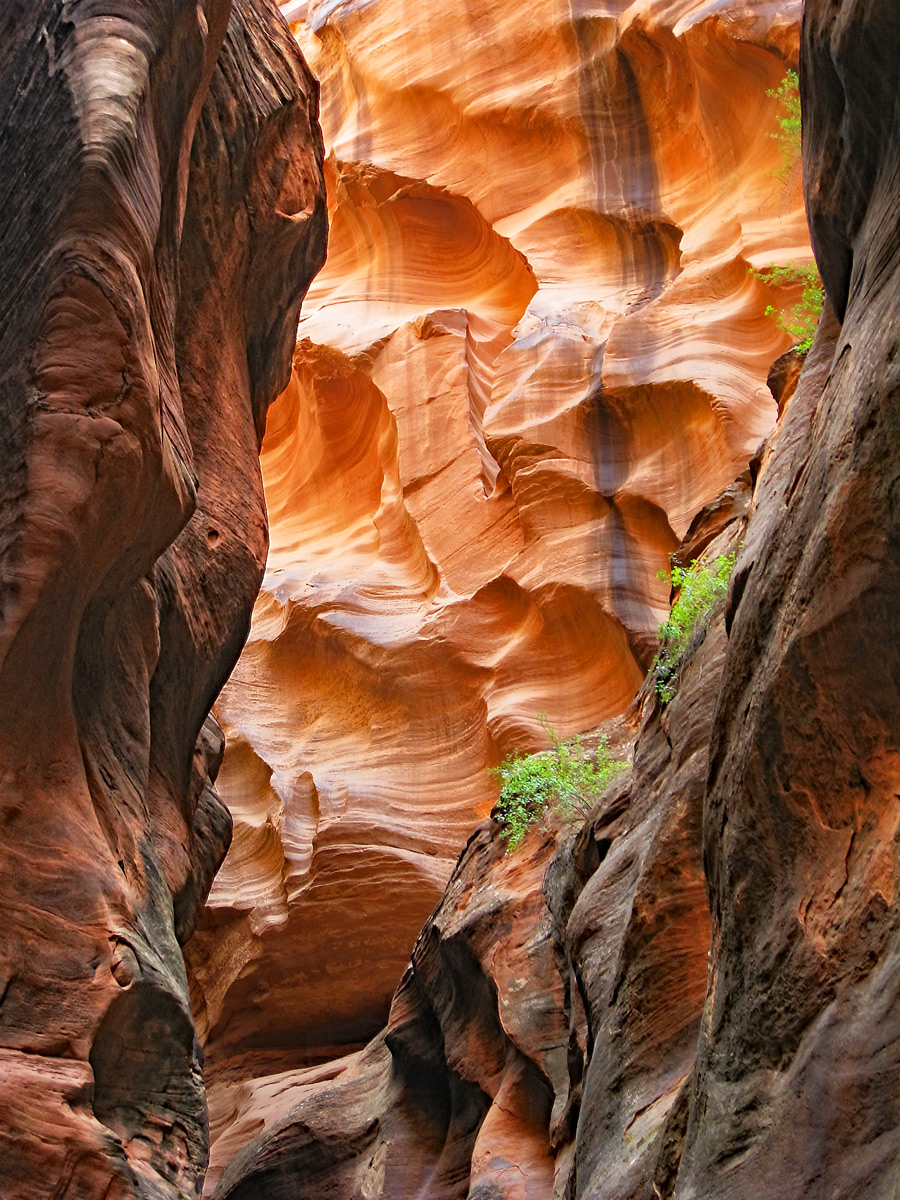 Buckskin Scallops
Buckskin Gulch originates in the high plateaus south of Bryce Canyon National Park. From there, it channels its way south across Highway 89 and into the Paria Plateau where it has carved out over the millennia, a twelve-mile long "slot canyon," regarded by many as perhaps the world's longest. This canyon empties into the Paria which then joins the Colorado River below Glen Canyon Dam.
The slot section of Buckskin Gulch is a popular hike for backcountry enthusiasts and so for several years we had awaited the right timing to make this trip. In May of 2008, the conditions were right and accompanied by other family members and friends, we hiked through this extraordinary canyon, armed with one small, compact camera to try and capture the unusual beauty to be found here. At one point, high on the canyon wall, we found these "scallop-like" features that were illuminated by the light higher up "bouncing" off the canyon walls and filtering down. Though we had many shots of this canyon, this one uniquely stood out to us and reminds us of the one-of-a-kind features to be found here and in the Paria.
Photo taken April, 2008
"Cool Light"
Timing is everything. This photo, taken in Lower Antelope Canyon near Page, AZ, was the result of some careful timing. Having been informed by a photographer friend that you could pay a little extra at the entrance booth and be allowed to wander the canyon for any length of time, we did so and for the next four hours we travelled up and down the canyon several times to capture it in a variety of light settings. Earlier morning, indirect light allowed a more diffuse blue cast to come out with the encouragement of the right camera settings. The unusual coloring adds a sense of depth and coolness to an already amazingly sculpted slot canyon. It stands in sharp contrast to the more typical fiery oranges and yellows associated with many slot canyon photos.
Slot canyons can be places of great beauty and intrigue and also danger. In the summer of 2007, 11 tourists lost their lives when they found themselves trapped in a raging flash flood in this very section of canyon.
Photo taken later September, 2009.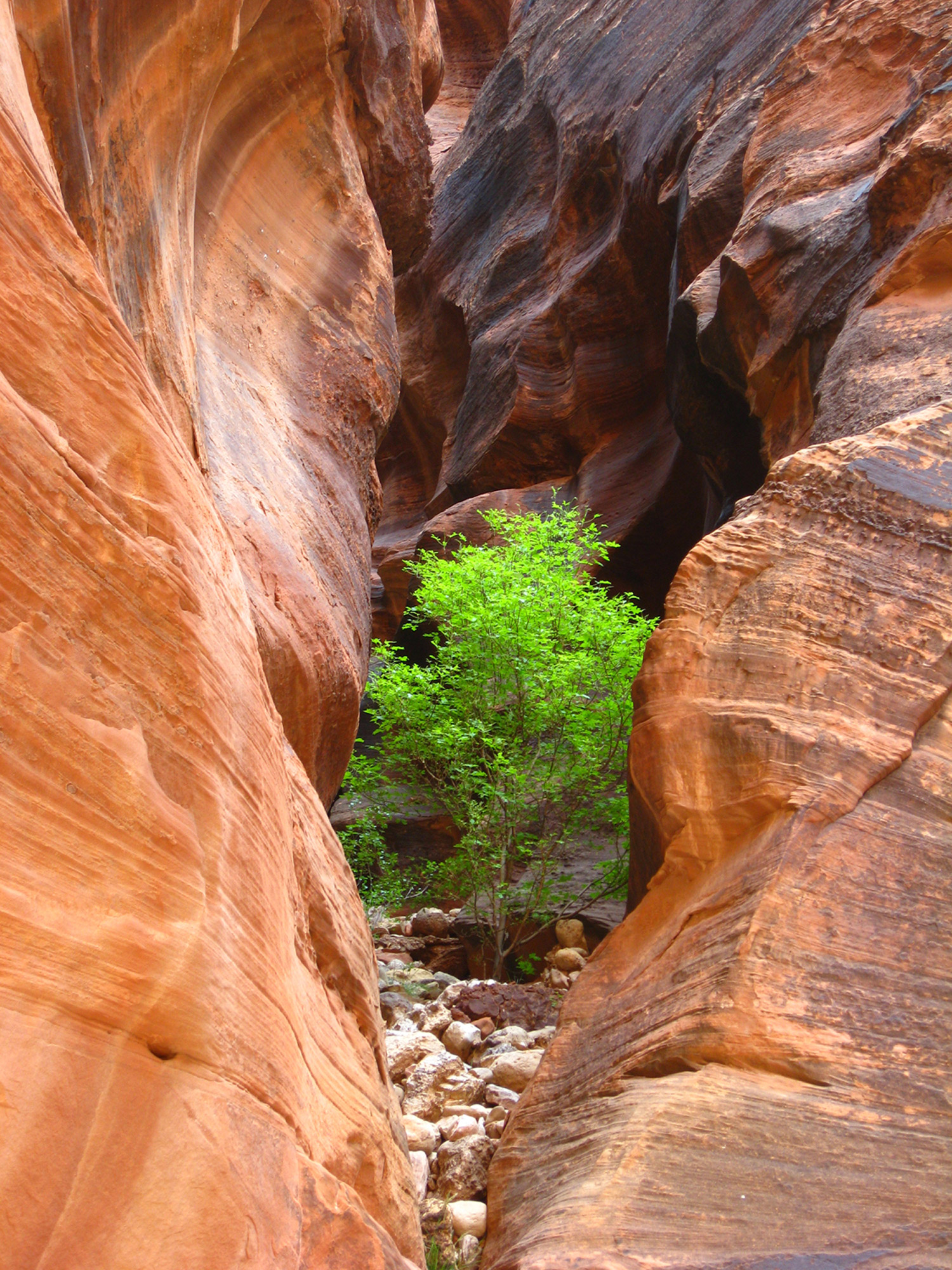 "Lone Tree"
The Paria Plateau, located on the Utah/Arizona border between Kanab and Page, harbors an extraordinary collection of geologic formations. One of those is Buckskin Gulch, a "slot" canyon, considered to be one of the world's longest measuring in at about 12 miles in length. Backpackers and hikers often make a two day trip to visit this remote canyon by hiking in from Wire Pass, travelling down the entire 12 miles on the first day and then hiking out an additional seven miles the following day by walking up the Paria River Canyon.
The canyon is mostly a narrow channel carved into the surrounding sandstone with little vegetation. Frequent flash floods tend to rip out most trees so only fast growing plants like grasses tend to survive. So when we spotted this one lone box elder tree that had probably survived numerous threats to its tenuous existence, we took this photo, using the surrounding rock to frame it and allow the bright green color to contrast the rust/orange canyon rock.
Photo taken May, 2008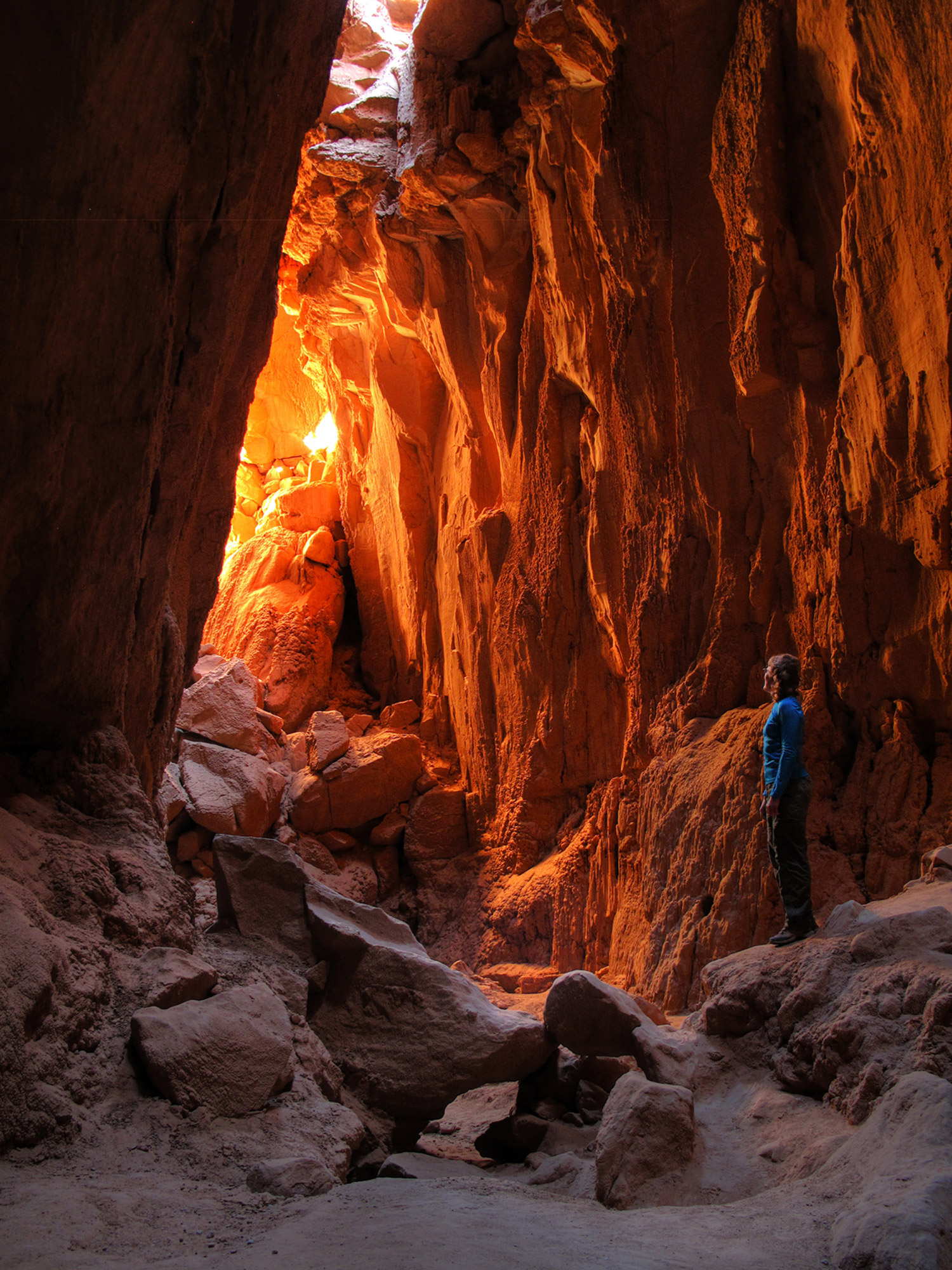 "The Enlightenment"
Goblin Valley State Park in Utah is located on the eastern edge of the San Rafael Swell. It is mostly known for its numerous "goblins" and "hoodoos," which are strangely shaped sandstone formations found throughout the park. It is a children's playground, bereft of vegetation, but full of fun places to explore.
Unknown to most, however, is a "cave" on the eastern side of the park. This cave does have a walk-in entrance but can also be accessed by exploring down a narrow wash until you come to a hole in the bottom of that wash. An 80 foot rappel then lowers you down through the roof of this cave to it's mystical depths.
We rappelled into this cave in early November, 2012. Prepared with cameras and tripod, we then captured in HDR detail the exquisite lighting as the eastern sun shone into the cave illuminating the walls. This was truly an "enlightening" experience.
"Illumination"
As mentioned before, timing is indeed everything when it comes to photographing slot canyons. This photo, taken in Little Wildhorse Canyon is proof. Little Wildhorse is a very popular, non-technical slot canyon located near Goblin Valley State Park in central Utah. On any given weekend with decent weather, the trailhead parking area will be filled with vehicles and as you walk the canyon, you'll see numerous visitors from young infants to octogenarians. The canyon is an easy and fun introduction to slot canyons. Even though it is frequently visited, that doesn't mean the canyon has little photographic merit. The photo here is proof that given the right time and place, even an overrun slot canyon can produce a beautiful picture.
Taken April of 2011, this photo came from a family trip to introduce our young granddaughter and son-in-law to the beauty of these canyons. As we paused in this chamber-like section of the canyon, the afternoon sunlight was in just the right position to "bounce" off the higher walls and illuminate the lower canyon, bathing it in this richly-colored, warm glow.
"Peek-a-boo Arch"
Located in one of the most remote and inaccessible places in the 48 states, "Red Spur" canyon offers both a canyoneering challenge and some extraordinary photo opportunities. Red Spur canyon is actually the "Moqui Fork" tributary to Horseshoe Canyon, a western subsection to Canyonlands National Park. Getting here requires two hours of off-pavement driving on rough roads and 4WD with high clearance. Is it worth the trouble? You be the judge.
The scene here is in the final section of slot before the canyon drops and widens. We almost did not complete this section. It was getting late in the day and the walk back to our vehicle would require almost a couple hours. But we decided to go for it anyhow and were rewarded with seeing what turned out to be the most remarkable part of this canyon. One section of protruding canyon wall has become so thin that a somewhat diamond-shaped hole has eroded through (right of center) allowing a peek-through back up canyon. Some day, that hole may become an arch. Photo taken late May, 2014.
Radiance
Antelope Canyon, located near Page Arizona, has become an internationally recognized slot canyon, not only for its photographic qualities but also for the flash flood in the summer of 1997 that tragically killed a dozen tourists, caught unaware by raging waters from a thunderstorm miles upstream. The canyon offers beautifully sculpted sandstone walls that align with the suns path in such a way as to offer optimal lighting for photography at certain times. Indeed, photographers travel from all around the world to try their hand at capturing that one perfect image. This photo is our attempt.
There are two main sections to Antelope Canyon, an upper and a lower. The upper canyon is where visitors will most often see a photo like this with a ray of sunlight illuminating the slot canyon chamber below. But this photo was actually captured in the lower canyon section, much closer to Lake Powell. The shaft of light was more of an accident on our part, but a young Navajo guide knew that tossing some sand in the air would capture and reflect that ray of sunshine and did so just as we snapped the photo.
The word "radiance" means "vividly bright and shining, or glowing." The sunlight above bouncing off the canyon walls is what provides the that light, hence the name, "Radiance." Sept. 2009
Slot Canyons
Slot canyons are extremely narrow corridors carved by water & wind in the softer sandstones of the Colorado plateau. Many can only be navigated by employing technical skills similar to rock climbing. These intriguing canyons have become emblematic of the American desert. While photos of Antelope canyon near Page abound (and we certainly have our own share), we also offer an assortment of slot canyon photos that feature canyons rarely featured or seen.