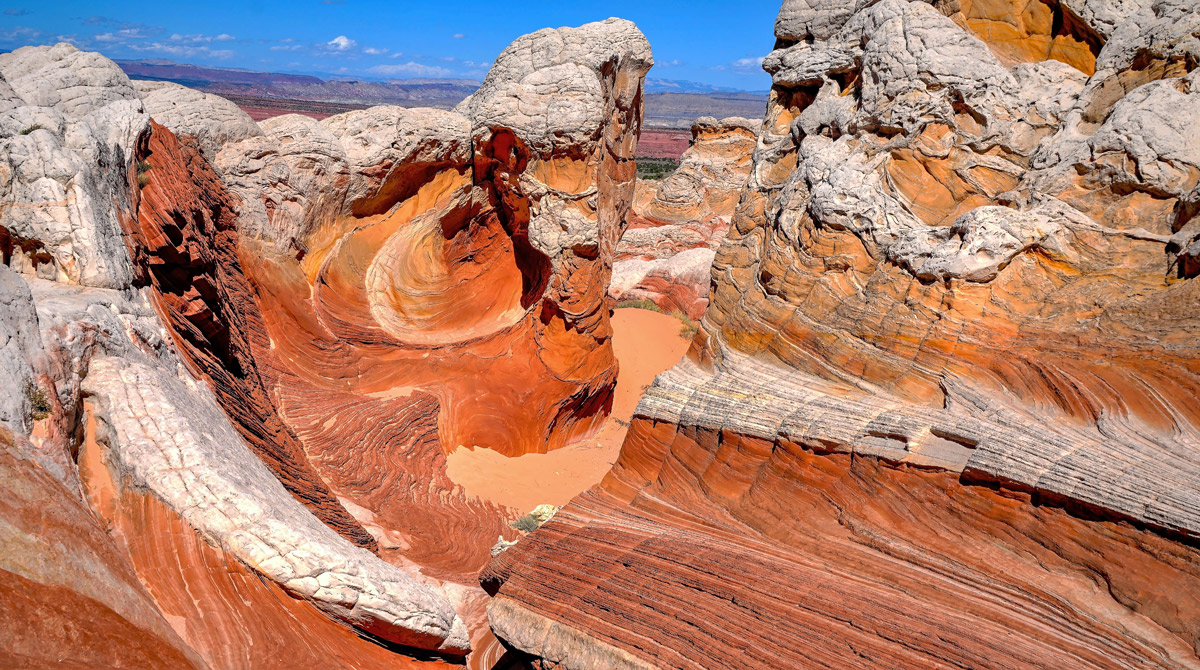 "Ineffable"
Makes a stunning infused aluminum print.
Now there's a word you don't hear used too often. It means "incapable of being expressed in words," or "indescribable." In some contexts, it has a connotation of taboo – something unspeakable or not to be uttered. While we have no qualms speaking about the "White Pocket," we did find ourselves struggling to find a title for this photo. After trying all kinds of ideas, none of which ever seemed to capture in just a few words the wonderment of this sight, we finally gave up and simply chose the word "ineffable," because no words can aptly describe White Pocket to someone who has never seen this place.
The ancient Hebrews of Biblical times considered the name of God to be "ineffable." The Biblical book of Exodus describes how God spoke to Moses from a burning bush in the desert. Moses inquired, "What is your name?" and God revealed to Moses His holy name. The Hebrews came to regard that name as so holy, it should not even be uttered and so created other names for God as a substitute. While the White Pocket is certainly not a holy place, if you ever have the chance to visit, you may find yourself like Moses, nearly speechless, and certainly struggling to aptly describe it to anyone else. HDR Image September 2017
"Teepees in Stone"
The Coyote Buttes area of the Paria Plateau boasts some of the most colorful and varied sandstone formations to be seen anywhere on earth. In fact, people travel from around the world to see "The Wave," but there is so much more to enjoy.
These "teepee" formations are found in the "Cottonwood Cove" area, which is part of the South Coyote Buttes management area. In mid-September of 2009, we spent two days there. The alternating, cross-bedded, colorful layers present a beautiful design that arrests a visitors attention. This particular group was one of the most well-defined we found in the area and we spent quite a bit of time photographing them from every possible angle. Those two days were a time of jaw-dropping awe.
"Goblins & Ghouls"
Still in the Cottonwood Cove area of the South Coyote Buttes management area on the Paria Plateau, are other formations that activate the imagination. The one to the right of center we imagined to be the face of a goblin. What do you see?
What was most impressive about Cottonwood Cove was the contortions of the upper layers. Twisted into unbelievable shapes, the various layers and their different hues present an ever-changing palette of color for photographing or just simply enjoying.
Photo taken mid-September 2009.
"Paria Backpack"
The Paria River originates on the southeastern side of Bryce Canyon National Park and flows south to empty into the Colorado River below Glen Canyon Dam. Backpackers often begin a hike down this canyon from an access point a couple miles south of where Highway 89 crosses the Paria between Page and Kanab.
In late September of 2006 a group of ten of us began a three day adventure down this remarkable canyon. At times, there is no flow for much of the hike down, but on this trip, we picked up flowing water for much of the hike. As hikers progress down the canyon, the walls close in, become much higher and the canyon narrows until near its confluence with Buckskin Gulch, it's only a few feet wide.
This photo was taken as the images of two of the members of our group were reflecting in the still waters. The reflecting sunlight on the canyon walls created a beautiful glow. It was originally a film image that we converted to digital.
"Almost Unbelievable"
Another area of unique formations and exquisite beauty in the South Coyote Buttes unit on the Paria Plateau is called "Paw Hole." Limited permits must be obtained to visit this unique and fragile area. In addition, there are numerous miles of dirt road driving and about 2.5 miles of driving up a steep, sandy road, but the reward is certainly worth the effort.
While we had seen numerous images of Paw Hole, most of which tended to focus on the "teepee" formations easily seen from the road, we found ourselves both unprepared and surprised by what is pictured here: tilted sandstone beds with alternating colors of rust and cream. The "rust" colored layers erode at a slower rate and protrude outward as much as a foot from the softer cream-colored layers.
We were so surprised and pleased to find this, that we prolonged our stay by several hours in order to capture better afternoon lighting. Our feeling was that we had found an extraordinary, secret treasure. Photo was taken mid-February 2014.
"I Can't Believe It!"
Located outside the Coyote Buttes management area and not currently requiring a permit to visit is a place called "The White Pocket," that many would argue exceeds "The Wave" for its unusual beauty.
We describe The White Pocket to others who have never seen it as "mounds of orange sherbert covered in vanilla ice cream. Bleached out sandstone covers a layer of multi-hued, richly colored sandstone, usually in terra cotta, but sometimes pink, salmon, maroon and gold hues are to be found as visitors hike around this half square mile of the most unusual shapes, forms and colors you will ever see. The multiple variations in color and form are almost unbelievable.
Pictured here is an group of highly eroded and convoluted shapes that seem to add to the mystical nature of this place. Photo taken February 2014.
"I Can't Believe It" in Black & White
White Pocket, AZ.
The combination of unusual shapes and contrastive variations in color lend themselves to black and white photos of this extraordinary area.
For the story about this photo, see the color version.
"Contortion"
This is the same formation as the previous photo, but viewed from a different direction. Using Carrie for perspective, we tried to capture the incredible shapes, undulations and contortions of strata to be seen in this part of "The White Pocket." Coming to see this place for the first time leaves one with a mixture of emotions. For a photographer, it's like turning a child loose in a candy store. On the one hand - you can't put the camera down. At every turn, there's something else to photograph.
But the absolute uniqueness of The White Pocket demands that at some point, you just stand there and try to absorb the incredible view. Words fail to describe it and even photos barely do justice.
Though currently not requiring a permit or having visitor quotas imposed on it, rumors persist that the BLM may begin to regulate this exquisite area. It is accessible only by high clearance, 4WD vehicles and requires driving on over 9 miles of single-track, deep sandy road. Photo taken February 2014.
"Contortion" in Black & White
As shown before, this strange land of the White Pocket evokes a sense of feeling like you're a sojourner, passing through a distant place in the galaxy and visiting another planet. To further enhance that effect, a black and white photo seems to increase the surreal, other-worldly emotion.
Photo taken February, 2014.
"A Moment in the Sun"
Continuing on a walking journey through the "White Pocket" leads one to this location where the evening light has accented the banded, contrasting layers of sandstone and brought out the salmon color in the sand. The result is a festival of color and more amazing layering that's been twisted, folded and contorted over the geologic ages into the shapes seen here. At virtually every turn and around every corner there is yet another wonder to behold.
As the later, afternoon sun broke through the gray-blue, cloudy sky just momentarily, we stood in amazement gazing upon this shimmering scene. This photo makes an arresting infused aluminum plaque. Photo taken February, 2014.
"Tenacity"
Much of the "White Pocket" area is weathered rock with very little vegetation. In some low-lying areas, enough sand has collected to offer a foothold for some vegetation like grasses and cactus. As we roamed about the stark, rocky landscape, our attention was easily drawn to this one, lonely pinyon tree, barely three feet tall, that had found a foothold in the rock and managed to eek out an existence over perhaps several decades. Even in the most inhospitable places, life seems to find a way to emerge. For this vigorous and tenacious little pinyon, we gave this photo, the name "Tenacity."
Photo taken February 2014.
"Waves of Stone"
This photo from a higher vantage point shows a larger portion of the dramatic, White Pocket landscape. Perhaps one of the most interesting features of this area is the overlying white-colored rock that fractures consistently into hexagonal shapes. Those cracks then often collect small pebbles that highlight the cracks even more. Much of that feature can be seen in this photo with the rust-orange colored rock layer beneath that provides such a unique contrast.
In our imagination, the "domes' of white rock seem like swells that boiled up through the rock pushing these layers upward. It almost looks like a seascape. Can you imagine white capped waves rolling along the ocean shore?
Photo taken February 2014. This is another photo that would look outstanding as an infused aluminum print.
Art in Sand and Stone
The "Coyote Buttes" is an area in extreme southern Utah and northern Arizona of extravagant and intriguing geologic formations in sandstone. The most well-known of these is the small area called, "The Wave." Close by are some other areas of great interest and viewing called "Paw Hole," "Cottonwood Cove" and "White Pocket." All of these require extensive driving on loose, sandy, single-track, 4WD roads that are then followed by desert hiking across sandy, sometime trackless terrain and slickrock walking.
This particular photo was taken September, 2017 on a very windy, late afternoon visit to "Paw Hole," where we continue to find sights that amaze us. The sculpting of the rock is simply beautiful and stunning. More of that sculpting is accomplished by wind, rather than water, as many would guess. The sweeping lines seem to suggest an artist's brush taking wide strokes against a grainy palette. And though the scene seems somewhat impressionistic, the sand-dune on the left offers a softening effect to the roughness of the sandstone walls and the softer yellow bands have a glistening, satin appearance from the setting sun that offers a contrast not only in color but texture as well.
HDR Image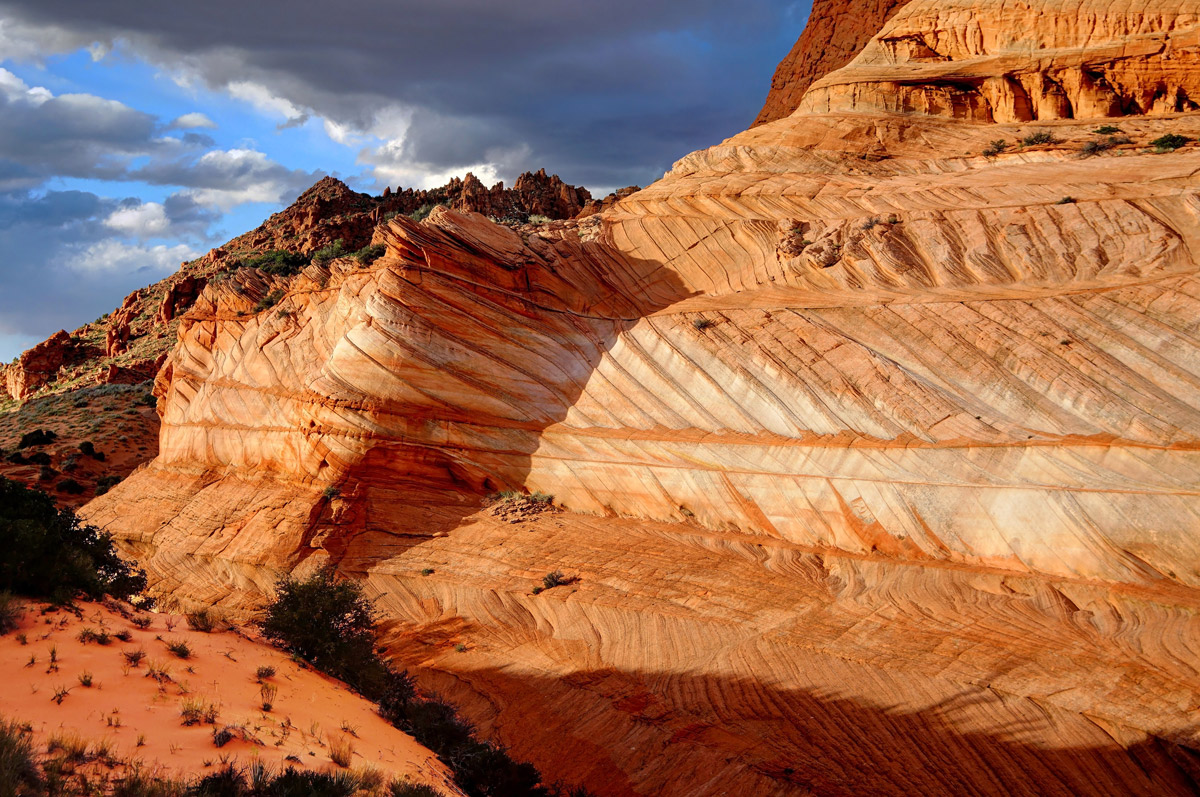 Coyote Buttes Evening Glory
The "Coyote Buttes" is an area in extreme southern Utah and northern Arizona of extravagant and intriguing geologic formations in sandstone. The most well-known of these is the small area called, "The Wave." Close by are some other areas of great interest and viewing called "Paw Hole," "Cottonwood Cove" and "White Pocket." All of these require extensive driving on loose, sandy, single-track, 4WD roads that are then followed by desert hiking across sandy, sometime trackless terrain and slickrock walking.
This photo was taken in the "Paw Hole" area. Each time we visit here, we find more that surprises and amazes us. Our last visit was September of 2017. We headed in during the later afternoon knowing that time would provide the best lighting for photography, but the weather was not cooperating. Prevailing winds were running about 30 mph and some gusts of close to 50 mph made taking photographs very difficult. But despite the challenging conditions, we persisted to explore and as the evening sun began to drop lower and the colors intensify we found ourselves in an area we had not investigated before, partly just trying to find a place out of the wind. Our effort to avoid the discomfort resulted in the opportunity to photograph this location in all its' evening glory. HDR Image Sept. 2017
The Vortex
"The Vortex." A dictionary defines a vortex as "a mass of fluid or of a liquid having a whirling or circular motion tending to form a cavity or vacuum in the center of the circle and to draw toward this cavity or vacuum bodies subject to its action."
The sweeping, swirling lines of sandstone at this location in the White Pocket seem to exactly do that in a visual sense. A photo taken from this angle allows the photographer and the viewer to see all the strata as it plunges and undulates toward the center of the vortex, still partially illuminated by late evening sun. The sandstone colors here vary widely depending on the time of day as the sun moves in its path across the typically blue, clear sky. (See previous image) With more than a half square mile of similar, greatly contorted terrain, the White Pocket offers both visitors and photographers a plethora of viewing and photographic opportunities in a land rich with color, design and texture. This site in particular causes one to just stand and view in jaw-dropping amazement.
HDR Image taken Sept. 2017
Paria/Vermillion Cliffs