Bryce Canyon in Technicolor
We recently read a comment by a traveler to the west who after visiting the Grand Canyon, found Bryce Canyon to be much less exhilarating. We would beg to differ. Seen only from the rim, Bryce is certainly spectacular enough with a sea of spires and hoodoos arrayed in a spectrum of colors. But even more impressive is to take one of the many trails down into the canyon and walk among these geologic wonders.
Obtaining a good photograph in Bryce is all about the suns angle, knowing when & where it will set and identifying the best locations to take advantage of the light. Over the years, we have made several visits to Bryce, getting to know the canyon. On this particular, early October of 2010 visit, we had spent the early morning hours photographing from Bryce Point. After the sunrise, we decided to venture into the canyon on one of the many trails. This HRD image was captured a few hundred feet below the rim on a perfect fall day that allowed the brilliant light of the sun to draw out all the possible colors in these rocky spires.
Canyonlands National Park - "Chessler Park Needles"
Canyonlands National Park offers a large assortment of desert vistas from rim views that overlook flat mesas, to the meandering Colorado and Green Rivers to the Maze District with its complex of canyons to the Needles District.
This photo was taken in early October of 2007 on a three day trip to the Needles District which offers some of the most unique scenery and formations to be found in the park. That area is characterized by spires of colorful, banded sandstone, interspersed among large, park-like areas of grass, sage and other desert plants. The place in the photo is called "Chessler Park" and is accessible by foot only, but the reward for the effort is to view unique scenery like this.
This particular photo is a "stitch" comprised of three photos. Its wide and narrow dimensions could make a great "sofa" photo or over the fireplace mantle.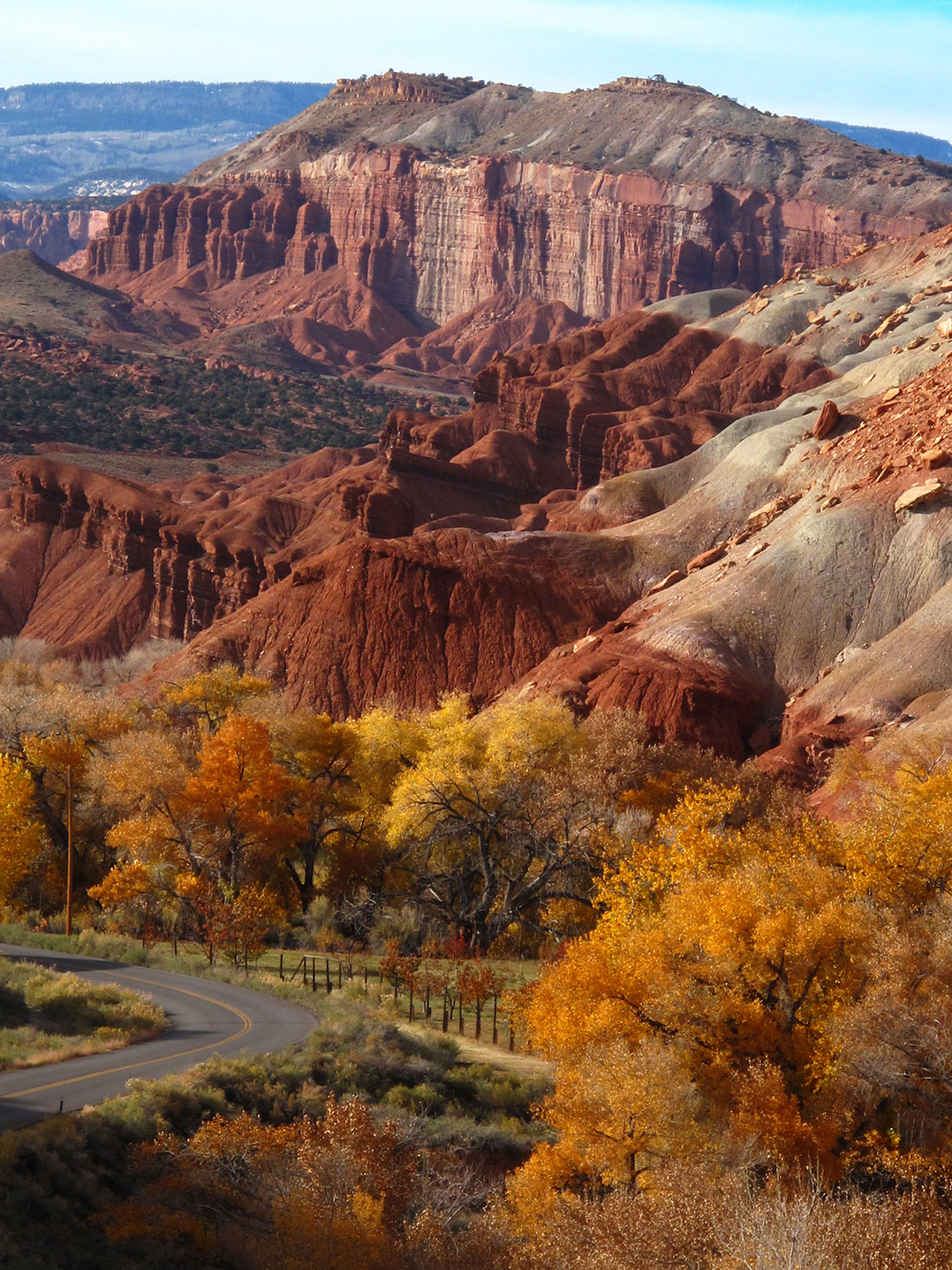 Capitol Reef NP - "A Capitol Fall"
Capitol Reef National Park does not receive the number of visitors that the Grand or Bryce Canyons do, but perhaps that's just a marketing problem - for this park certainly does not lack for variety and imposing scenery. While rusty-red, salmon and cream colored sandstone layers contrast each other, if you throw in a splash of fall colors added by the changing cottonwoods, you have the perfect recipe for an adventure in color.
This photo, taken early November of 2013, was part of a canyoneering weekend for the two of us. In recent years, there have been a growing number of technical canyon routes added to the Capitol Reef repertoire and we figured this to be our last canyoneering trip of the season. When we arrived, we were excited to find the cottonwoods at the peak of their fall color. This shot was taken on a trail that climbs steeply above the campground and looks to the northwest to capture the varied colors of the trees and cliffs.
Colorado National Monument - "Passing Storm"
Living at the foot of the Colorado National Monument, just outside of Grand Junction, we have come to describe this scenic place as a "mini Grand Canyon" that you view from the bottom up. Towering cliffs of mostly Wingate sandstone form the dominant feature of this landscape and from our home vantage point, we have opportunity every day to observe the changing moods brought about by sun, clouds and weather.
On this particular late August day in 2014, passing monsoonal storms from the evening before had left much cooler air and clouds that were hanging low on the Monument. Seeing a photographic opportunity, I grabbed my cameras and raced to drive up the winding road to a vantage point I had previously scouted out to take some HDR photos. By the time I arrived, the cloud ceiling was lifting, but the contrasting puffy white and darker clouds hovering over the reddened landscape and blue sky peeking through the clouds still provided a wonderful photo opportunity as the later morning sun illuminated the rock.
Arches National Park - "A Delicate View"
Delicate Arch in Arches National Park just outside of Moab, Utah, is one of the most photographed features in the entire state. The arch itself seems to defy reasonable explanation and almost seems to suggest that an "intelligence" sculpted and placed it here just to pique our imagination. Over the years, we have seen this arch photographed from almost every possible angle, season and weather condition. Trying to obtain a "unique" photo would be a challenge, but one we felt compelled to take up.
So on an unusually warm, late January weekend in 2015, we drove to Moab and after spending the morning hiking up Hidden Canyon, we drove on over into the park to do some late afternoon photography. An extensive bank of thin clouds had covered much of the sky and lighting was poor, but we knew from prior experience that sometimes, just before the sun sets, it will drop below the cloudbank and briefly illuminate the landscape in blazing light and color. The result - you see here; Delicate Arch in an almost liquid golden brown state, just minutes before the sun sank below the horizon. HDR, wide angle photo.
Rocky Mountain National Park - "Almost Heaven"
Rocky Mountain National Park was established in 1915 largely through the lobbying efforts of Enos Mills and the legislative bill written by James Grafton Rogers. President Woodrow Wilson signed the bill into law. Ever since, this park has been seen as the quintessential example of the Rocky Mountains and millions of tourists have over the decades visited and photographed this iconic region.
Nestled between the towering cliffs of Powell Peak and Taylor Peak lie two small lakes; "Sky Pond" and "Lake of Glass." The "Lake of Glass" shown here certainly lived up to it's name as with anticipation, we hiked one late July morning in 2007 into this glacier-carved gorge with the hope of climbing both peaks. Greeted by this serene, almost heavenly glassy reflection, the cameras quickly came out and we enjoyed briefly a classic Rocky Mountain morn with birds singing and darting about, fluffy clouds floating above and refreshingly brisk air. We felt like we had been transported into another realm wondering if heaven could be any more beautiful.
Grand Teton National Park - "A Grand Dream"
Ever since visiting Grand Teton National Park as a young teenager, it had become the dream of this flatlander Texan to climb that extraordinary peak some day. Skip forward 50 years and I finally found myself standing at this scene, anticipating a climb of the "Grand" in two more days.
This famous scene of the old barn and homestead at the end of Mormon Row has been the goal of many a photographer. Wanting to add this iconic view of the American West to our own collection, we arose well before dawn and drove over to "stake out" a spot from which to obtain an ideal photograph. But the anticipated crowds of photographers never showed this morning, perhaps because a slow-moving cloud bank had prevented the sun from casting its glorious, early morning light on the peaks. But the clouds and a little bit of sun peeking through presented its own opportunity and the result was this photo with a slight purple, "alpenglow" lighting. Photo taken early August, 2014.
McInnis Canyons - "Centennial Arch"
McInnis Canyons National Conservation Area was established in October of 2000. Rattlesnake Canyon, located within this large BLM-managed parcel of land, holds the highest concentration of natural arches to be found anywhere in Colorado, and the second highest concentration of any location in the US, next to Arches National Park.
A moderate day hike out of Grand Junction takes one into this amazing canyon where the dozen or more arches can be viewed both from above and below. This particular arch seems to have more than one name. "Centennial Arch" is one of the designations. This HDR image, taken late May of 2010 in the later afternoon, features both the span and height of this amazing piece of natural architecture. It leaves one with a sense of awe at the natural forces that produced this remarkable geologic feature over the ages. This photo has been used in the City of Grand Junction annual calendar and by the Grand Junction Visitor and Convention Bureau.
Zion National Park - "Narrows of the Virgin"
When one attempts to describe Zion National Park in mere human words, they may feel compelled to invent new words, because our standard vocabulary cannot do justice in describing the stupendous, soaring cliffs and multi-hued sandstone formations and canyons. The park is a demonstration of the inexorable forces of water, wind and earth movements. Fractures in an ancient plateau led to the erosional effects of water and over the millennia, the magnificent canyons have been carved out of the sandstone rock.
The primary agent carving out this complex is the Virgin River seen here. A major side canyon, called Mystery Canyon, empties into the Virgin River Gorge at this location. On this mid-September day of 2012, our group of friends stood at this overlook, preparing to complete the final rappel of this technical canyon descent. With both excitement and care, we each took our turn descending as water from Mystery Springs splashed upon us and onlookers below watched, commented and even applauded. Now that's the way to truly experience this marvel of nature.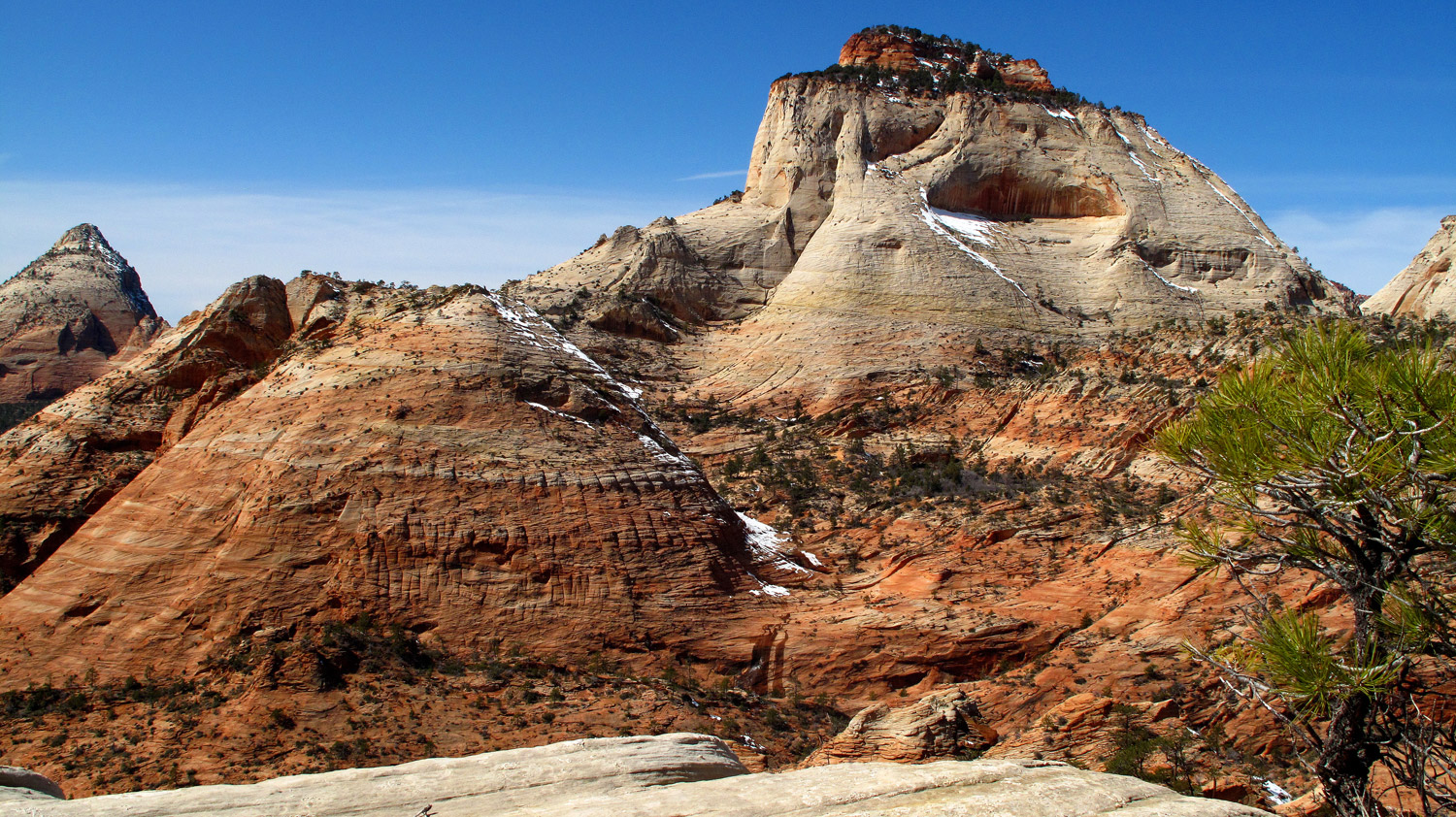 Zion National Park - "East Temple"
Of the two main entrances to Zion national Park, the East Entrance road is our favorite. Descending from a higher plateau of rolling hills and open meadows, the highway enters the emerging canyon and quickly drops the visitor into a prehistoric scene of towering, flat-topped peaks and deeply carved, narrow canyons. The most amazing feature of this highway, built around 1930 by the Civilian Conservation Corps, is the 5,613 foot long tunnel built above Pine Creek - an engineering marvel for its time. The irony is that the current ethic of the National Park system would never allow such a thing to be built, yet this highway provides visitors the opportunity to experience one of America's most extraordinary wonders.
When we visit Zion, as we have regularly done for over a decade now, our goal has always been to go beyond what the typical visitor sees. So we have climbed the peaks and descended the technical canyons to achieve that goal. The "East Temple" shown here, can be easily seen at times from the highway, but a stiff climb up to a smaller peak afforded this less seen perspective of the mighty temple of sandstone that stands so prominently over the east side of Zion Canyon. Photo taken mid March of 2011.
Cathedral Dawn
Upper Cathedral Valley in Capitol Reef National Park is usually the sought-after destination for those making the 57 mile loop drive in this remote section of the park. Along that loop, there is only one place where camping is allowed, so we organized our two-day excursion to end with the first day at that campground, which overlooks the spectacular upper valley. Both that evening and early the next morning, we spent some time trying to capture both the late evening and morning lighting of this "monument valley." This particular photo was captured in the morning with the first direct rays of sunlight illuminating the formation in the foreground, while the tall cliffs, walls and pinnacles in the background awaited their turn in the sun. Those distant formations are over an impressive 400 feet in height. Later that morning, we would hike right along their base, but for the present, it was difficult to tear ourselves away from such a magnificent morning light show.
"Reflections On the Grand"
No mountain in all of America is more impressive or more likely to capture the imagination of a budding young climber than the Grand Teton. Soaring 7,000 feet above the plains of Jackson Hole and reaching toward that Wyoming blue sky, "The Grand" dominates a vast, western landscape for miles around. As a young teenager, on a summer vacation with family, I passed by here and vowed to return some day in answer to an internal call to ascend this peak. It took nearly 50 years to finally get around to answering that call, but the wait was worth it.
In August of 2014, Carrie and I, joined by three other capable friends, took on the challenge of lugging heavy backpacks up the steep trail to an awaiting campsite, then arose the next morning at 3:00 AM to begin the long awaited ascent. The fickle weather that day granted us a reprieve and offered us no more challenge than some expected wind and near freezing temperatures higher up. By noon, we stood upon that rocky summit, over a thousand feet higher than any other surrounding ground and gazed out across what seemed like half of Wyoming and Idaho. Six hours later, we were back down the mountain, packing up our campsite, and already contemplating the climb as a memory. But it's an indelible memory and this reflective photo will always serve to remind me of that day.
Photo taken at Schwabacher Landing – August 2014. HDR
Canyonlands National Park: "Reach For the Sky"
The "Needles" district of Canyonlands National Park is aptly named. Richly colored sandstone spires "reach for the sky" in dramatic displays that tower above and surround the flat, grassy pastures of Chessler Park. The spires sometimes reach well over 100 feet high and are painted in hues of red/rust/orange/terra-cotta colored bands separated by whitish/gray/tan/yellow bands. These bands form horizontal layers that make these spires even more interesting in early morning or late evening when the low-angle sun casts a warming glow and brings the various colors to life.
Unlike a previous image that was comprised by stitching together three separate shots, this image is cropped from a single frame to focus on the magnificent spires. It would make a nicely framed photo to go over a long sofa or in a room that has a large horizontal space to fill. We have printed this image in up to 53 inches long with excellent results.
Image taken Oct. 2007.
National Parks