A Brainy Solution
An initial view of this photo might engender a number of guesses as to what is being observed. This actually shows a fairly frequent, geologic occurrence to be found in the Utah sandstone canyons. It is variously known as honeycomb weathering, swiss-cheese rock, solution pockets or "tafoni." We typically refer to this kind of formation as solution pockets because the primary action behind their formation is that of water that has dissolved less bonded pockets in the sandstone.
Typically found in the Entrada or Navajo sandstone layers, solution pockets form when water dissolves the calcium carbonate which is the primary cementing agent in the sandstone. What is left behind often resembles swiss-cheese, a sponge or a lacy honeycomb. In this particular instance, this formation reminded us of microscopic photos of brain cells and the connecting neurons. Using your own imagination, what do you see?
Photo taken outside of Moab, Utah, November, 2010. HDR Enhanced.
"Abandoned"
The San Rafael Swell, located in central Utah, was at one time a major area to supply United States uranium needs, especially during the "Cold War" era of the 1950's and early 1960's.
With the advent of the "atomic" age toward the end of WWII, uranium ore was needed by the government to build the nuclear stockpile. The years 1948 and 1949 saw hundreds of claims filed for this area. Through the 1950's, uranium ore was extracted from several mines in this area and fortunes were made, but more were lost during this explosive era. A record 6.1 million pounds of ore were extracted in 1958, but just two short years later, the entire market began to collapse. In 1952, Vernon J. Pick was profitably operating the Delta/Hidden Splendor mine near the Muddy River. He sold his claim a couple years later to the Atlas Corp. for nine million dollars. Unfortunately, over the next three years, those owners were only able to extract two million in ore and so the mine closed in 1957. Other mines that operated here were the Copper Globe, Lucky Strike, Tomsich Butte and the Little Susan. The vehicle in this photo is likely a relic left over from those mining days – abandoned and forgotten and now only serves as an object for target practice. HDR Image 2018
Cathedral Dawn
Upper Cathedral Valley in Capitol Reef National Park is usually the sought-after destination for those making the 57 mile loop drive in this remote section of the park. Along that loop, there is only one place where camping is allowed, so we organized our two-day excursion to end with the first day at that campground, which overlooks the spectacular upper valley. Both that evening and early the next morning, we spent some time trying to capture both the late evening and morning lighting of this "monument valley." This particular photo was captured in the morning with the first direct rays of sunlight illuminating the formation in the foreground, while the tall cliffs, walls and pinnacles in the background awaited their turn in the sun. Those distant formations are over an impressive 400 feet in height. Later that morning, we would hike right along their base, but for the present, it was difficult to tear ourselves away from such a magnificent morning light show.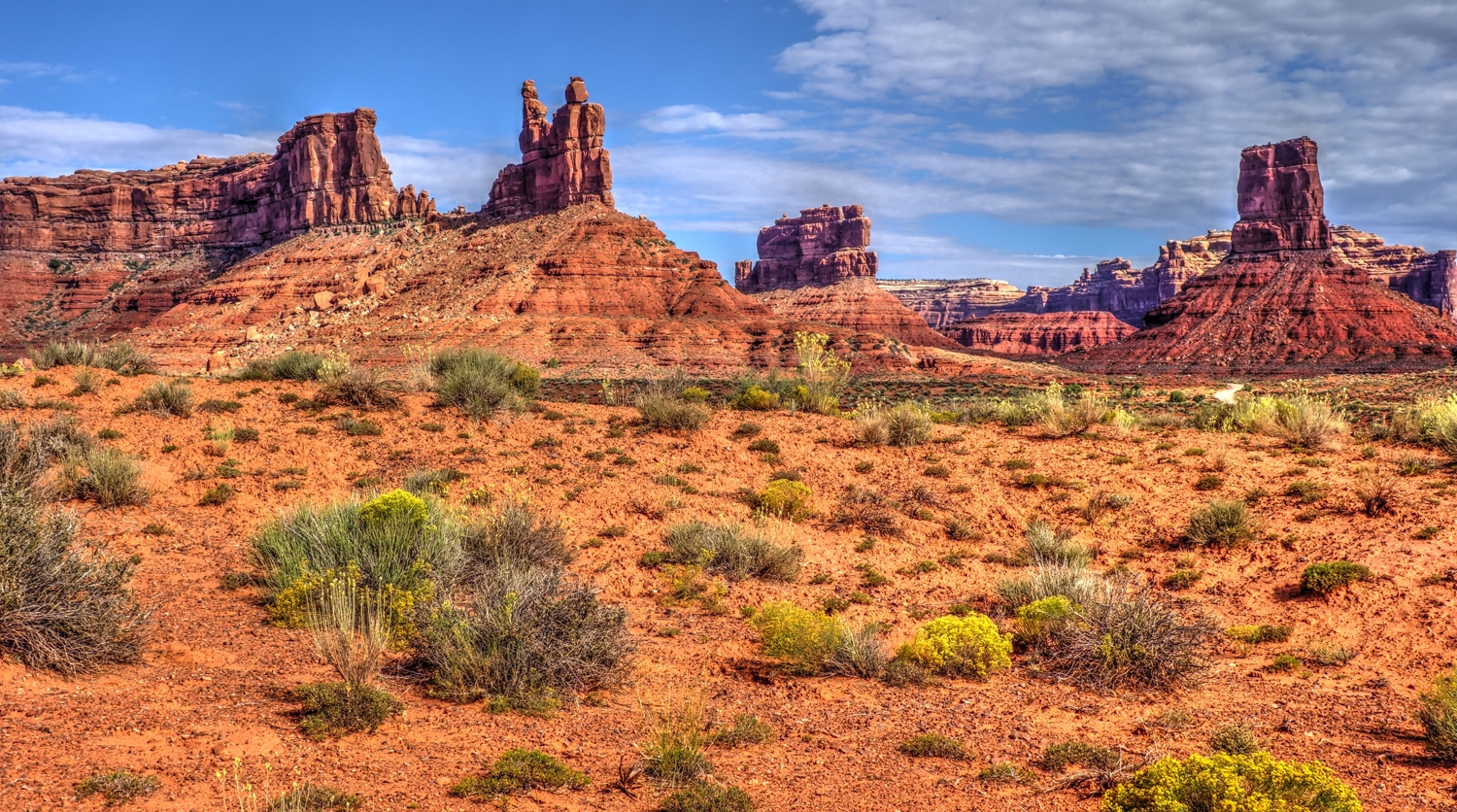 "The Classic West"
No scene is more iconic of the American west than something from Monument Valley. But much of that land is part of the Navajo Reservation and both photographers and hikers are limited to views close to the maintained roads. But just north of Mexican Hat, Utah, Highway 261 turns off of Highway 163 and heads north towards a formidable cliff over 1,000 feet high. Before reaching that cliff, a graded dirt road turns off to the northeast and begins a journey through a non-reservation area of Monument Valley called, "The Valley of the Gods." With formations similar to Monument Valley, you're free to drive or wander far from the road to capture that perfect desert scene.
This image was a morning image taken in late September of 2015 and is an HDR combination of three bracketed photos to provide detail in the shaded cliffs and more definition to the high clouds. If you look carefully to the right, you can just make out some of the road that leads through this captivating area. The best areas to photograph are along the northernmost reaches of the road.
"Park Avenue of the West"
This classic scene greets visitors to Arches National Park not long after the initial drive in and is one of the first and most popular stops. With a view out to the "Courthouse Towers," the scene has "classic America west" written all over it.
This photo was taken later afternoon after a day of technical canyoneering in the same area. On our walk back to the parking area and taking a look back, we realized how perfect the lighting conditions were for some photos - so running back to our vehicle, we grabbed our better cameras and set up to take this HDR image that captures all the detail and color of an iconic scene.
"Two Arches for the Price of One"
Wouldn't you love this in your backyard? This massive "double arch" is found in "The Windows" section of Arches National Park. It was actually used in the opening scene of the third Indiana Jones movie, "The Last Crusade."
Late fall weather offers extraordinary days of crystal blue skies and rock colors intensified by the lower angle sun. This HDR photo was taken mid-November of 2012 after a trip through the "Fiery Furnace." It was later afternoon and the low angled sun on the rocks in the Windows section was bringing out al the color. So we stopped here to take some shots. I wanted a photo stripped of any distractions ( like the numerous tourists visiting the site) so I zoomed in to achieve this effect of just two basic elements - rock and sky.
"Desert Morning Glow"
A Utah area of fascinating, geologic interest is Goblin Valley State park. Located on the eastern edge of the San Rafael Swell and just a few miles off Highway 24 between Green River and Hanksville, this desolate park is loaded with "goblins," "hoodoos" and other unique formations. It's a playground for children and a continual "photo-op" for any brand of photographer.
While the "goblins" usually receive all the attention, on an early morning drive with my son-in-law, arranged to capture the rising sun and early morning light, our attention was diverted to the lighting on the formations and towering butte just west of the main park. This HDR image captures the full effect of that sunrise from the deep shadows to the brilliant colors illuminated by the morning sun. Photo taken mid-April of 2011.
"The Portal"
A dictionary I have defines the most common meaning of the word, "portal," as being: "A door or entrance, especially a grand or imposing one." This photo was taken along the "Portal Trail" just outside of Moab, Utah. That trail can either be walked, as we chose to this day, but daring mountain bikers can also careen down it. Near the head of the trail, a warning sign proclaims that people have died trying to ride their bikes on the narrow track with sheer cliffs plunging hundreds of feet down. We had known about this trail for years but always figured it was too advanced for our meager biking skills, so this day, we decided we would at least walk the trail and see what all the fuss was about.
What we found was a spectacular view of the Moab fault valley and the Colorado River meandering far below. In this single shot, we tried to capture a little of the fall colors below to contrast the intensely blue sky and rust-colored, sandstone cliffs. To the left of the river is Arches National Park. Moab lies to the right. And where we stand is the grand "portal" as the river carves its way through the rugged cliffs to continue downstream to Lake Powell.
Photo taken late October, 2007.
Painted Hills
Capitol Reef National Park harbors a widely-varied landscape. From soaring, sandstone summits, to sheer rock walls, canyons ranging from deep and wide to slot, and sweeping desert landscapes, the more we visit this park, the more we discover its scenic treasures. In March of 2016, we had the opportunity to travel through yet another section of the park we had never visited before - Cathedral Valley. To get there, a graded, dirt road begins a little east of the park's east entrance. A low-water crossing of the Fremont River sends visitors on their way to a startling and impressive section of the park that we call, "The Monument Valley of Capitol Reef." As this road heads off the highway, you soon come to an area called, "The Bentonite Hills." The Bentonite found here is a clay formed from mud, silt, fine sand and volcanic ash during the Jurassic period and is part of the Morrison Formation which is often found to hold dinosaur fossils. The varying layers may show hues of brown, gray, green, red, and purple/maroon. While quite colorful and photogenic, when bentonite becomes wet, it becomes very slick and gummy, making passage either by foot or vehicle nearly impassable. Moral of the story - don't try to drive here after recent rains!
Life Goes On
Some persons look at desert landscapes and see little signs of life, but life is there for those who pay attention and perhaps more abundant than we first perceive. These clumps of a hardy desert grass were found in a remote, technical canyon of the San Rafael Swell of eastern Utah. The canyon is called "Knotted Rope," and it offers a pothole escape adventure for canyoneers equipped with the right skills. Visiting this canyon in April of 2017, in the lower section, we were impressed by a large sand dune that we hiked up to obtain a view of the Muddy River Gorge, 400 feet below our canyon. In the wind-blown sands of this dune were numerous tracks of lizards, perhaps snakes, and either centipedes or millipedes. While focused on trying to obtain a photo of those tiny sand tracks, I noticed these grasses that had survived canyon winds with hardly any water and were yet thriving in such a hostile, shifting environment. It's often amazing at times where you may find signs of life, whether it be animal or plant.
Desert & Canyon Landscapes
From places like "Fantasy Canyon" to Moab to Coyote Buttes, Highest Ground Photography offers unique and seldom seen perspectives of the Colorado Plateau. Canyon Country offers an infinite variety of color, shape, texture and perspective. Browse our collection and find just what you need to enhance your home or office environment.