"Asters with a View"
Not being a botanist, we're not sure if these are fleabane, asters, daisies, or Townsendia rothrockii, but these purple type flowers are ubiquitous to the Colorado high country and prove to be quite tenacious at times. We usually find these in or around rocky crevices at higher elevations. Wherever you may find these delightful flowers, they are always bursting with color.
This particular group was found growing on a rocky ridge above 13,000 feet elevation in the Elk Mountains near Aspen. We were climbing an unnamed summit that day of 13,180 feet and as we departed that summit and followed a ridgeline, this little group of flowers amid the rocky terrain arrested our attention. They provided a perfect foreground for Belleview Mountain, shown in the background.
"Flowering Sunshine"
In the Elk Mountains above Crested Butte, the summer flowers are unrivaled for their variety and beauty. But who would think that a plant called "Sneezeweed" could offer such intense color and beauty?
In Rustler Gulch, northwest of the tiny hamlet of Gothic, we had planned a three-day backpack trip to climb six Elk Mountain summits. We expected rocky, difficult peaks, What we didn't expect was to be overwhelmed with a valley absolutely filled with blooming wildflowers of every kind.
Among all those flowers, "Orange Sneezeweed" was a dominant variety in the cooler and wetter upper valley. Mixed with the lighter yellow "Showy Goldeneye," the contrasting blue lupine, paintbrush and a myriad other flowers, we could barely put our cameras down, taking hundreds of photographs in those three days. This particular flower was one that had opened fairly recently because its petals had not begun to droop like older sneezeweed flowers, providing an opportunity to showcase this variety. Photo taken mid-July, 2013.
"Paint Me a Photo"
The southern Elk Mountains around Crested Butte are home to a spectacular flower display each summer. In fact, the Crested Butte Wildflower Festival draws flower-lovers from all over to witness, paint, study and photograph the colorful scenes to be found.
This photo was taken mid-July on the West Maroon Pass trail starting from the south end of that trail near Scofield Pass. Less than a mile from that trailhead, hikers will begin to encounter mountain slopes laden with vivid arrangements of wildflowers. This photo features orange paintbrush in full bloom accented by "Showy Goldeneye." The goldeneye is prolific all around Crested Butte this time of year, sometimes covering acres of ground.
This particular day, we were supposed to be hiking to a summit that would require 14 miles roundtrip with over 5,000 feet of elevation gain and loss. It would be a long enough day, but having to constantly stop and photograph flower scenes like this one made it even longer. But we're not complaining. It was worth it!
"Rocky Mountain High"
Our entry into the world of digital photography came the summer of 2007 on a five-day backpacking/climbing trip in Rocky Mountain National Park. On several of our photos on this site, we have raved about the summer wildflower displays around Crested Butte. But Rocky Mountain NP is not about to be outdone. This iconic park that represents to so many what the Rocky Mountains are all about has its own share of brilliantly displayed wildflowers.
In the southeast corner of the park is an area called "Wild Basin." On our first day in late July, we had packed into a designated backcountry campsite below Bluebird Lake. The next morning, we hiked on up to the lake on our way to climb some nearby summits. Around one side of the lake was a lush and wet area of vegetation profusely adorned with wildflowers, especially Elephant Head, paintbrush and bluebells. Thrilled with the capabilities of our new camera, we spent considerable time here trying to capture the beauty of this scene. Now that's what we call, a "Rocky Mountain High!"
"Perfection"
The Rocky Mountain Blue Columbine is in our opinion, one of the most perfect of all flowers in form, color and beauty. Over the years we have seen and photographed many, but this particular group exceeds all others we have witnessed for its perfection.
Columbine can often be found in the partial shade of an aspen forest, but what is so amazing about this seemingly delicate plant is where we more often find it - in rocky terrain scattered among boulders where there appears to be little if any soil. This particular clump was found in just such a place. We were climbing Snowdon Peak in early August of 2008 and had left pleasant tundra strolling to enter a steep, rocky-filled couloir (gully) where we struggled for secure footing. As we climbed up, we came into an area where there were numerous clumps of these blue columbine amid the rocky rubble. This particular group stood out and we paused to photograph them. What is most unusual about this particular group is how the usually white inner petals display a darker center of rich blue - a feature we've never seen so clearly as shown here.
For a truly splendid presentation of these, we suggest an aluminum print that will showcase all the vibrant color.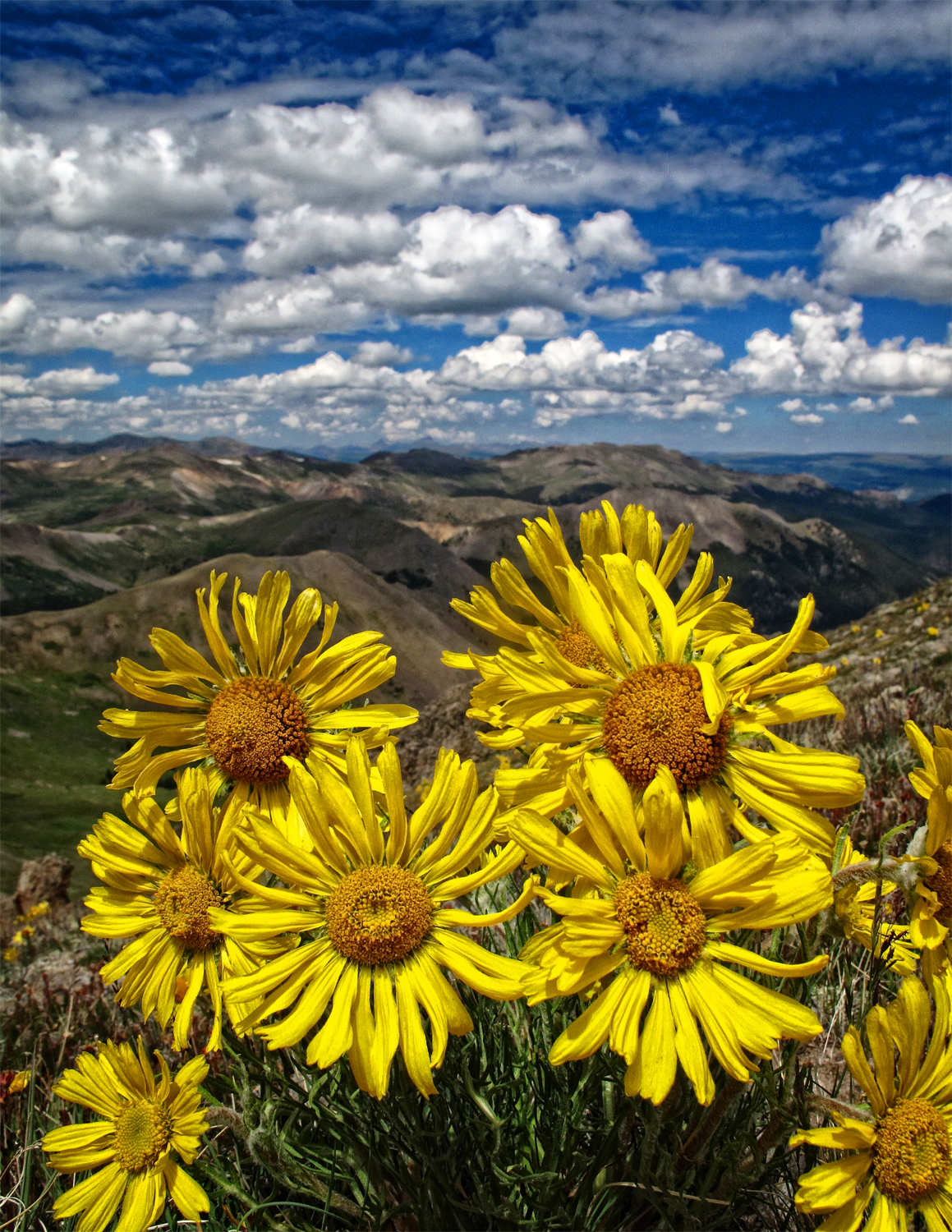 "Old Man of the Mountain"
The ubiquitous "Old Man of the Mountain" is a Colorado wildflower that flourishes in the high, wind-swept tundra. It's richly yellow flower heads are almost always turned east toward the morning sun, greeting each new day with a sunny, warm smile. Place them against a clear, Colorado blue sky and you have the recipe for a perfect photo.
We love these little flowers and never tire of seeing them or photographing them. As we ascend out of the trees and onto the open, tundra slopes of the high peaks, we always find some to greet us and encourage us along our way. They seem to have a certain exuberance about them that belies the common name of "Old Man of the Mountain." This particular group was photographed on a low, unnamed 13er near San Luis Peak in the eastern San Juans, late July, 2010. Makes a wonderful small plaque to brighten up a corner or dark wall.
"Dropping In"
Summer days hiking in the mountains often end on a rainy note, especially when the monsoon flow comes up from the south. Such days often send us scurrying for shelter, but sometimes, if the rain is not too heavy, it's fun to stay out and see what unique photos we can capture.
Such was this July day hiking up Boren Creek in the La Plata Mountains west of Durango. We had succeeded in climbing a rugged peak even though the weather had been threatening and on our hike back to the trailhead and the shelter of our vehicle, we paused in the light rain for a short break. It was then that we spotted these aspen leaves with the rain droplets beading up on the surface. Using macro capabilities, we captured this delightful close-up and a reminder that not all is lost on a rainy day.
Photo taken mid-July, 2012
A "Marvelous" Surprise
Brightly colored flowers always attract our attention while hiking in desert areas, such as this Desert Four O'Clock found near our campsite on Cedar Mesa in southeast Utah on a Memorial Day weekend canyoneering trip. The Latin name, Mirabilis multiflora or the Spanish name Maravilla, both mean "marvelous" and the name certainly is deserved. The flowers usually open in the shade of later afternoon (or on cloudier days) and so earlier in the day, you may not even notice them, unless the bright green succulent vegetation happens to catch your eye. The plant is related to the common garden Four O'Clock. It has a large tuberous root that Indians would chew or powder and apply as an ointment to various skin lesions. It grows from southern California to southern Colorado and into northern Mexico and prefers the sandy soils of the red rock country and the pinyon and juniper forests.
In those desert areas, this plant is not too commonly seen, so when you do encounter one and the flowers have opened, their "marvelous" color will certainly catch your attention and you'll be pausing for a photograph as we certainly did.
Photo taken late May, 2014
Old Man Close Up
This close-up view of Old-Man-on-the-Mountain displays all the intricacies of this ubiquitous, hardy, yet delicate flower. The photo, taken near the summit of a ranked but unnamed 13er north of Creede, featured just one bloom of a cluster of unusually tall and brightly-colored "Alpine Sunflowers," the more common name. This is one of the earliest to bloom flowers of the high tundra and we always look forward to finding some. They prefer rocky slopes (not hard to find in the Rocky Mountains), high-elevation meadows and the tundra regions, and are rarely seen growing at any lower elevations. Apparently they enjoy the rugged life of the windswept tundra, which may explain why you seldom find one that has not seen its long rays, torn apart or shredded. Yet despite the hardship they endure, they always bring a bright, cheerful and uplifting enjoyment to our high-altitude excursions.
Photo taken late July, 2010.
"Old Man's Whiskers"
At first look, you may not guess that this is actually a flower, but one of its common names, "Old Man's Whiskers," certainly fits this plant when the flower is finished blooming, as shown here. Also known as "Prairie Smoke" or "Purple Avens," it's easy to miss this low growing plant in the high country. Earlier in the season, it has bell-shaped, pink or reddish-pink flowers that dangle from long, reddish stalks. When the flowering time is over, what you see here is what remains.
The flower grows in a wide range of climates from sagebrush plains to mountain ridges and meadows. We found these growing in an open meadow by Grizzly Reservoir, a diversion reservoir a few miles south of Independence Pass near Aspen. The elevation there was a little above 10,000 ft. After fertilization occurs, the flowers turn upward while the hair-like plumes begin to grow from the pistils, waiting to be caught by the wind or a passing animal so the seed can be dispersed.
Photo taken mid-August, 2009
"Pretty In Pink"
Paintbrush are a highly adaptive plant that are found from the sandy deserts to mountain tundra. While the genus is easy to identify, the specific species is much more difficult. They grow as partial parasites on the roots of other plants so they are difficult to transplant or grow from seed. The variety shown here is called "Rosy Paintbrush," (Castilleja rhexifolia). While most of the desert paintbrush we see in our travels tend to be orange colored, the paintbrush in the high country come in a variety of shades, including red/scarlet, orange, pale yellow and rose/pink. Among the rosy types, there are numerous shades.
This particular group of paintbrush were found along the shore of an unnamed lake at 12,500 feet, nestled between Peaks Five and Six in the Weminuche Wilderness. While descending Peak Five, we wanted to get some photos by the lake and were pleasantly surprised to find a verdant field next to the lake with a mix of Marsh Marigolds and Rosy Paintbrush. Next to Columbine, we probably photograph paintbrush more than any other wildflower. The vivid colors are just simply irresistible.
Photo taken mid-July, 2012
Floating Leaves
Some golden-colored fall leaves laying on the ground or nestled in the branches of a green conifer is a commonly-themed photo, or perhaps a lone trail or vehicle track in the mountains covered in glistening, golden aspen leaves. We decided to break with that theme a little and use a different background – water. If you look closely, these leaves are floating on a small trickle of water. Pebbles can be seen under the water and in the lower right, one stone emerges above the water. If you examine more closely, you can see small ripple marks around the edges of the leaves. We "took a cotton" to this photo because the water gave an appearance of encasing the leaves loosely in a clear plastic. The effect was unusual. With all our mountain hiking, one might assume these were aspen leaves. They are actually cottonwood leaves found floating on a small irrigation ditch at a campground just outside of Moab, Utah.

 
Orange Crush Paintbrush
Paintbrush (castilleja) are easy to identify, unless you're trying to find or name a specific sub-species. No other flower really has a similar appearance. Often they are referred to as "Indian Paintbrush." In Colorado, several varieties may be found including a "linariifolia," (Wyoming Paintbrush), "rhexifolia" (Rosy Paintbrush), "chromosa" (Desert Paintbrush) and "sulphurea" (Sulfur Paintbrush). In the alpine meadows of the Colorado Rockies, we most frequently see the sulfur, rosy and orange-red kind featured here. The Wind River Range in Wyoming has a brilliant red variety.
The vivid orange-crush color of these paintbrush certainly can catch a photographer's eye. They usually grow in clumps that may grow one to two feet tall. It is a biennial plant which usually develops rosettes the first year and then blooms the spring or summer of the second year, after which it dies when it has set seed. Typically, it will re-seed itself. It is also semi-parasitic, sending out roots that invade the roots of neighboring plants to obtain the nutrients it needs. That fact helps explain why you can often find it growing in close association to another plant, such as the wild geranium (white flowers) and delphinium seen in this photo. We found these paintbrush in a timberline basin above Molas Pass, July 2017. With such outstanding orange-crush color, perhaps Colorado should claim its own sub-species.
A Crown for a Queen
Now here's a flower known by many names, but always a beautiful sight. In Colorado, most high country hikers refer to it as "Queen's Crown," to distinguish it from a cousin with deep red heads called "King's Crown." While King's Crown is frequently found in higher altitude, well-watered slopes and basins, Queen's Crown is more rarely seen. It's bright pink petals with touches of white make it stand out in any wildflower setting. Nothing else seems to ever compare to its color.
Queen's Crown -or- Red orpine -or- Rose Crown -or- Redpod Stonecrop (Rhodiola rhodantha), family Crassulaceae (Stonecrop), is basically a sedum-type plant making it a succulent. Upon first seeing it, you may think you have found a vivid clover of some type, but closer examination will reveal an entirely different plant than clover, with rounded, succulent leaves rather than flat. Compared to King's Crown which has a flower cluster that's flattened, Queen's Crown flowers are more of a rounded column and are found in even wetter locations. This photo shows the most dramatic and vivid cluster we have ever found. We think the beautiful color would certainly make a crown worthy of any queen. Photo taken near Noname Creek in the Weminuche Wilderness. July, 2012.
True Blue
Home gardeners know that finding flowers that are truly blue is a difficult task at times. The "Western Blue Flax" (linum perenne) is one native wildflower you can always count on for "true-blue" color. Also known as "Wild Blue Flax," this open plant with mostly unbranched stems can be found in a variety of locations from prairies and meadows to alpine slopes and ledges. It can be found growing from Southern California to Alaska and as far east as mid-west states like Kansas. In the high country it's delicate, sky-blue flowers provide a beautiful contrast to the many yellow flowering wildflowers, orange paintbrush and purple asters.
The flowers found at the ends of the open stems do not bloom in abundance. You usually find them in small groups of three, four or five, so they add more of a subtle contrast to the other flowers nearby rather than stand out prominently. This makes their true-blue color even more appreciated. Blue is the color associated with trust and loyalty. It's also associated with peace, serenity and spirituality. Though the color has also come to be associated with depression, such as the phrase "singing the blues," these little flowers always seem to lift our spirits.
Photo taken near Crested Butte, CO August, 2017
Pertinacious
The environment at the summit of a Colorado thirteen-thousand foot peak is hostile to say the least. Winter-time temperatures may drop to fifty degrees below zero. Winds may blow in excess of 100 mph and do so for days. At the top of a mountain peak, though snow may fall in winter and rain in the summer, there is little to help retain any of that precious moisture. For nine months of the year, the average daily temperature is below freezing. The time any plant has to grow is extremely brief, the "growing season" being less than a month. High mountain summits are often devoid of any fertile soil and often covered in broken rocks and boulders.
When you arrive at a mountaintop and discover a thriving little flowering plant, one should thoughtfully consider what that plant has endured in order to still put forth beautiful and cheerful flowers the following summer. The plant featured here was found at the very summit of Italian Mountain, (13,378 ft.) near Crested Butte. We believe it to be a dwarf form of cinquefoil, perhaps potentilla glandulosa. To survive in this harsh environment, this plant must put down a deep taproot. The cheerful, bright yellow flowers silhouetted against the distant, verdant Elk-mountains scene, added some unexpected interest to arriving at this summit in mid-July of 2011. The word "pertinacious" seemed to fit this cinquefoil best. It means "stubbornly unyielding or tenacious."
Springtime In the Desert
Cities like Grand Junction, Delta and Montrose are really located in a desert landscape along with the Colorado National Monument. When one thinks of desert, displays of wildflowers do not usually come to mind, but for those willing to get out and hike in our desert environment, there are a multitude of springtime flowers to observe and appreciate. Locally, we enjoy such flowers as: bluestem penstemon, scarlet gilia, sego lily, blue lupine, Hopi blanketflower, rimrock milkvetch, hairy goldenaster and several blooming cactus like claretcup and fishhook. With all these, the desert can become quite a colorful display. Then there are those flowers that bloom later in the season like desert four o'clock and fall asters and several shrubs also flower.
The flower seen here is the desert paintbrush (Castilleja chromosa). It flowers April through August depending on location and is most often found in dry, open, sagebrush country throughout the western US. As a semi-parasitic plant, it is often found in close association with other grasses or shrubs where its roots can invade the roots of their neighbor to obtain nutrients. It's stand-out red-orange color always attracts attention and makes a springtime hike in the Colorado National Monument all the more interesting and beautiful.
Photo taken May 2014, Colorado National Monument
Three of a Kind
In poker, a hand with three of a kind can often be a winning hand, but there are still any number of other combinations that can beat three of a kind. When it comes to the Rocky Mountain Blue Columbine however, in our opinion nothing beats that hand. The botanical name is Aquilegia coerulea. It is the state flower of Colorado and it is a perfect representation of all the beauty this state has to offer. As a clump-forming perennial, the flower will return to bloom in the same spot year after year. It's often found in aspen groves, but what surprises us is how such a delicate flower can be found growing in some of the rockiest places at times.
Over our years of hiking in the mountains, we have learned the location of certain spots where columbine are prolific and have that rich, sky-blue color that makes them so distinct. Yankee Boy Basin above Ouray certainly has a reputation for an excellent display. The ones in this photo were found as we hiked along the Lime Creek Trail that leads to Eagle Lake in the Holy Cross Wilderness. In very early July, we found that trail to have an abundance of native wildflowers. As we entered the aspen forest, blue columbine began to appear all along our walk, gracing the trail with their exquisite color. Needless to say, we found our hike delayed that day as we stopped to photograph them.
Photo taken July, 2013 by Carrie Cooney.
Rejoice!
The ubiquitous "Old Man of the Mountain" is a Colorado wildflower that flourishes in the high, wind-swept tundra. It's richly yellow flower heads are almost always turned east toward the morning sun, greeting each new day with a sunny, warm smile and urging us to "Rejoice!" Place them against a clear, Colorado blue sky and you have the recipe for a perfect photo.
We love these little flowers and never tire of seeing them or photographing them. As we ascend out of the trees and onto the open, tundra slopes of the high peaks, we always find some to greet us and encourage us along our way. They seem to have a certain exuberance about them that belies the common name of "Old Man of the Mountain." This particular group was photographed on a low, unnamed 13er near San Luis Peak in the eastern San Juans, late July, 2010. The area is referred to as the La Garita Mountains.
The Perfect Mix
Capturing photos of wildflowers in the Colorado high-country is something we enjoy doing immensely. A peakbagging friend of ours even devised a term for this near malady. He calls it "HADS" which stands for "high altitude dropsy-it is." Whenever you see one of us suddenly drop to our knees or belly with camera in hand, you can be sure a colorful flower has captured our attention. One thing about those wildflowers however, is that each species usually keeps itself separate from other species with the result that it is more difficult to find a photo opportunity that combines multiple colors and/or species.
In the scene depicted here, we found such a beautiful combination, and not only was it a nice mix, but the colors in the color spectrum were a perfect match for each other. The deep blue flowers on tall stalks are delphinium. They thrive in moist areas from the sub-alpine forest to timberline and above. Delphinium are toxic if eaten, but their beautiful native-blue color belies that toxicity. Garden varieties come in an array of colors.
Below the delphinium are what we have called, "Orange-Crush Paintbrush," with a few white, wild geranium and some yellow cinquefoil thrown in to complete the "perfect mix." The photo was taken in a high basin above Molas Pass, July, 2017. The wildflowers in that location were so prolific, we could hardly tear ourselves away, even with threatening weather. HDR
Colorado Tansy Aster
Having covered several thousand miles of climbing Colorado high country summits, when it comes to wildflowers, we began to think we had seen them all. Then one day, we stumbled across something like this – the Colorado Tansy Aster ((Xanthisma coloradoense). Though they belong to the "aster" family, which is regarded as the single largest plant family in the world with 23,000 species, this particular variety is very limited in terrain, being confined to Colorado and Wyoming.
Most populations occur on gravelly areas in mountain parks, on mountain summits, and often adjacent to coniferous forests on slopes, rock outcrops, volcanic ash, dry washes or dry tundra. Though found mostly at higher elevations to 12,500 ft., they can grow at lower elevations below 7,000 ft. They bloom from early July into August. We found this group near the summit of a 12,000 foot peak northeast of Crested Butte, CO. Their rare shade of color (unenhanced in this photo) instantly caught our eye and reminded us of the great variety of plant life that can be found in this amazing creation. Photo taken August, 2017.
Alpine Wildflowers