"Water In Motion"
The La Plata Mountains northwest of Durango are often featured in coffee table books of Colorado for their splendid displays of wildflowers, particularly columbine. We have only travelled to these mountains once and a return trip will certainly happen in the near future.
Our occasion to photograph this waterfall came out of a misfortune. The day before this photo was taken, we had hiked up an old road along Boren Creek and climbed Babcock Peak (July 2012). Since there is some dispute as to which of three summits is actually the highest point for Babcock, we first found ourselves on the westernmost summit. From there, we could see that the next summit east of us was the highest so we had to descend several hundred feet down a tenuous couloir and then do some 3rd class scrambling to reach that middle summit.
Later that evening, we discovered that one of our cameras was missing. After searching our vehicle thoroughly, the only conclusion we could reach was that we had accidentally left it behind somewhere on the mountain. The next day we returned to Boren Creek and hiked about 3/5ths of the way back up the peak searching every place we had stopped the day before. We never found the camera. It may still be on that first summit, but we did find this beautiful waterfall on Boren Creek and the return trip gave us the opportunity to take more photos like this.
"He Restores My Soul"
The 23rd Psalm in the Bible is perhaps the most well-known and quoted. A portion of the 2nd and 3rd verse reads, "He leads me beside still waters; He restores my soul." Just five minutes in a pristine and calm setting like this can do more to restore my soul than anything I can imagine. I think I can understand what the Psalmist was trying to say. Life in the city offers nothing comparable to this.
Found within the boundaries of the Holy Cross Wilderness, New York Lake and its outlet pictured here offers an unbelievably beautiful portrait of the Colorado high country. On a day hike to climb Finnegan Peak above New York Lake, we passed by this spot twice - once in the morning on the way up, then again in the afternoon, heading back. It took no coaxing whatsoever to stop here and bathe our feet in the refreshing waters after an arduous day of clambering over relentless rocks. The snow-fed waters offered a cool drink as well while we watched trout rise to the surface to feed. Anyone bring a fishing pole? Do we have to leave? Photo taken late July, 2011.
"Reflect On This"
Water has the unique ability to create nearly perfect reflections when there is no wind and the lighting is right. And a reflective shot like this seems to create within us a calm and a sense of peacefulness or tranquility. When you're hiking in the mountains and come across a scene like this, you just have to stop, sit and soak in the serenity of the scene.
The occasion for this photo was a dayhike in Rocky Mountain National Park in late July of 2007. Our goal was to climb Powell Peak by hiking up the Glacier Gorge trail, then turning up toward Lake of Glass and Sky Pond, an area frequently photographed by those willing to make the long hike back there. Arriving at Lake of Glass in the earlier hours of the morning, we found this mesmerizing scene and stopped to take multiple photos.
We went on that day and attempted to climb Powell Peak, but rainy weather had quickly moved in and thwarted our plan, forcing us to retreat from the steep rock, covered with lichens that had become dangerously slick because of the rain. We may have failed in our climb that day, but we felt like winners getting a shot like this.
"Tundra Tarn"
One of the more attractive features of the alpine tundra are the small ponds that may dot the landscape. We refer to them as "tarns," though using that Scandanavian designation at times is stretching the definition of the word. Their shallow waters often allow a glimpse of the colored rocks beneath and their frequently glassy surfaces provide opportunities for reflective photos.
This wide-angle photo, taken in mid-July of 2014 was in an area we had never been before. The location is the headwaters of Cross Creek in the northern Sawatch Range. (That's near Mt. of the Holy Cross.) The small, reflective tarn is unnamed and doesn't even show on the USGS Mt. Jackson quad, but the lake further back and left of center is Blodgett Lake. The symmetrical peak is an unnamed and unranked high 12er (12,806 ft.).
We had backpacked into this area from the Carter Creek drainage. Here, we found an amazing collection of lakes, (some still half frozen) tarns, cascading streams, abundant snowfields left from winter and rugged mountains that comprise the core of the northern Sawatch peaks. It all reminded us of photos we've seen of the Alaskan Brooks Range. Hiking that day across this large expanse of alpine tundra, we found it to be a home to both a small group of mountain goats and elk. Though we did see some fishermen at Blodgett Lake, the feeling of this area was one of solitude, remoteness and undisturbed wilderness.
"Mirror Image"
About four miles southeast of a little town called Tincup lies a picturesque lake called Mirror Lake, in the heart of the southern Sawatch Range. It's an easy drive for most vehicles and the lake receives numerous visits daily. There's a small campground right by the lake as well.
This photo was taken the July 4th weekend of 2011. We arrived at this lake after an early morning hike close by and were more than surprised to find an open campsite which we promptly occupied. The next day, we planned to hike some nearby 13ers so that gave us the evening free to roam around and take some photos. The amazingly clear and warm day gave way to a long, lingering sunset that evening and we worked our way around the lake watching for a shot that would capture both the reflective lake and the golden light. With a little bit of luck, we also captured a fisherman standing on the shore hoping for that evening "catch." This is a typical Colorado mountain scene at its finest.
"Evening Reflection"
Labor Day weekend of 2011 brought us an opportunity to climb "Peak L" in the Gore Range near Dillon and Frisco. After a lengthy backpack into Upper Slate Lake, we found an attractive campsite in some trees overlooking the lake and directly across from Peak L. The next morning, we headed off and in a matter of hours, achieved the 3rd class summit of this prime representative of Gore Range peaks.
Nearby Peak L, but across the valley was another tempting summit named Peak R. At 12,995 feet, it seemed like a reasonable thing to go ahead and climb this high 12er summit even though we were at this time trying to complete climbing all the 13ers. So off we went with only sentence or two I had read in a book about a Class 2 route to the summit. The first two attempts to reach the summit failed. It was not until a third try that same day, that we finally found the route I had read about. By the time we reached the summit, it was after 4:00 PM and we had a long hike back to the campsite through rugged terrain with little if any trail. As the sun was setting behind the peaks and we were still trying to find our way, we walked past this small, reflective tarn and even though we were in a hurry, we managed to take this photo that reflects some of the high peaks of the Slate Creek area.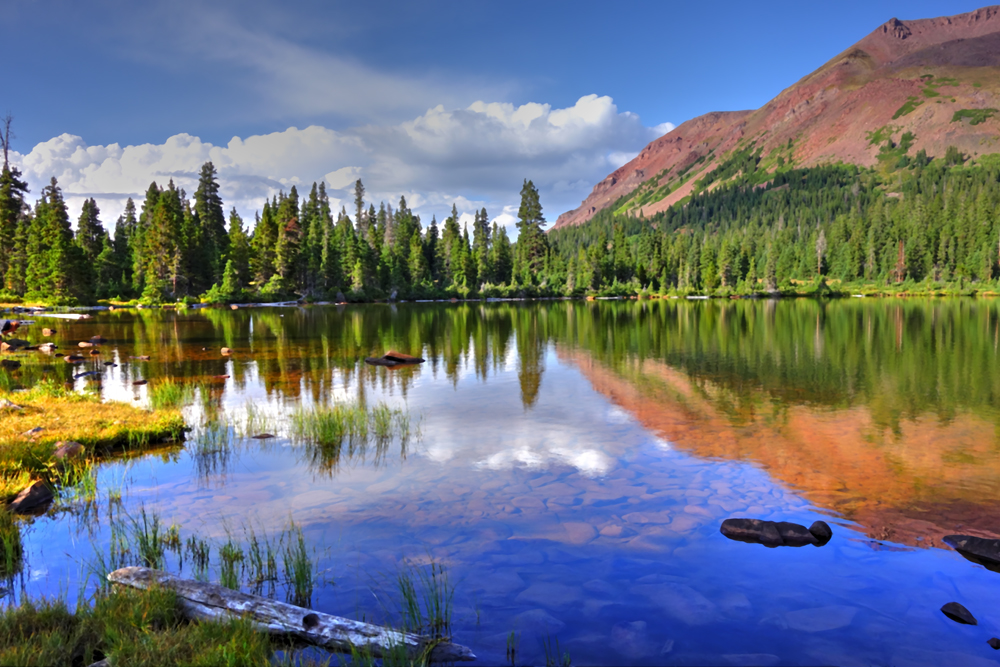 "Tranquility"
We try not to duplicate too many images on this site but Dollar Lake in the Utah, Uinta Mountains, certainly deserves a second chance. A similar, wide-angle view may be found under "Mountain Landscapes." This photo places more emphasis on the tranquil water and reflected sky that seems to call out for a visitor to walk out on that grassy bank on the left, sit down and just absorb the serene view. Though the numerous backcountry campsites nearby may fill up on summer weekends, if you schedule a backpack trip on weekdays, you may arrive here to find this tranquil setting all but abandoned. With some ideal campsites only dozens of yards away, Dollar Lake offers an almost perfect backcountry home for a few days. Let's do all we can to keep it that way.
"Reflections on the Grand"
No mountain in all of America is more impressive or more likely to capture the imagination of a budding young climber than the Grand Teton. Soaring 7,000 feet above the plains of Jackson Hole and reaching toward that Wyoming blue sky, "The Grand" dominates a vast, western landscape for miles around. As a young teenager, on a summer vacation with family, I passed by here and vowed to return some day in answer to an internal call to ascend this peak. It took nearly 50 years to finally get around to answering that call, but the wait was worth it.
In August of 2014, Carrie and I, joined by three other capable friends, took on the challenge of lugging heavy backpacks up the steep trail to an awaiting campsite, then arose the next morning at 3:00 AM to begin the long awaited ascent. The fickle weather that day granted us a reprieve and offered us no more challenge than some expected wind and near freezing temperatures higher up. By noon, we stood upon that rocky summit, over a thousand feet higher than any other surrounding ground and gazed out across what seemed like half of Wyoming and Idaho. Six hours later, we were back down the mountain, packing up our campsite, and already contemplating the climb as a memory. But it's an indelible memory and this reflective photo will always serve to remind me of that day.
Photo taken at Schwabacher Landing – August 2014. HDR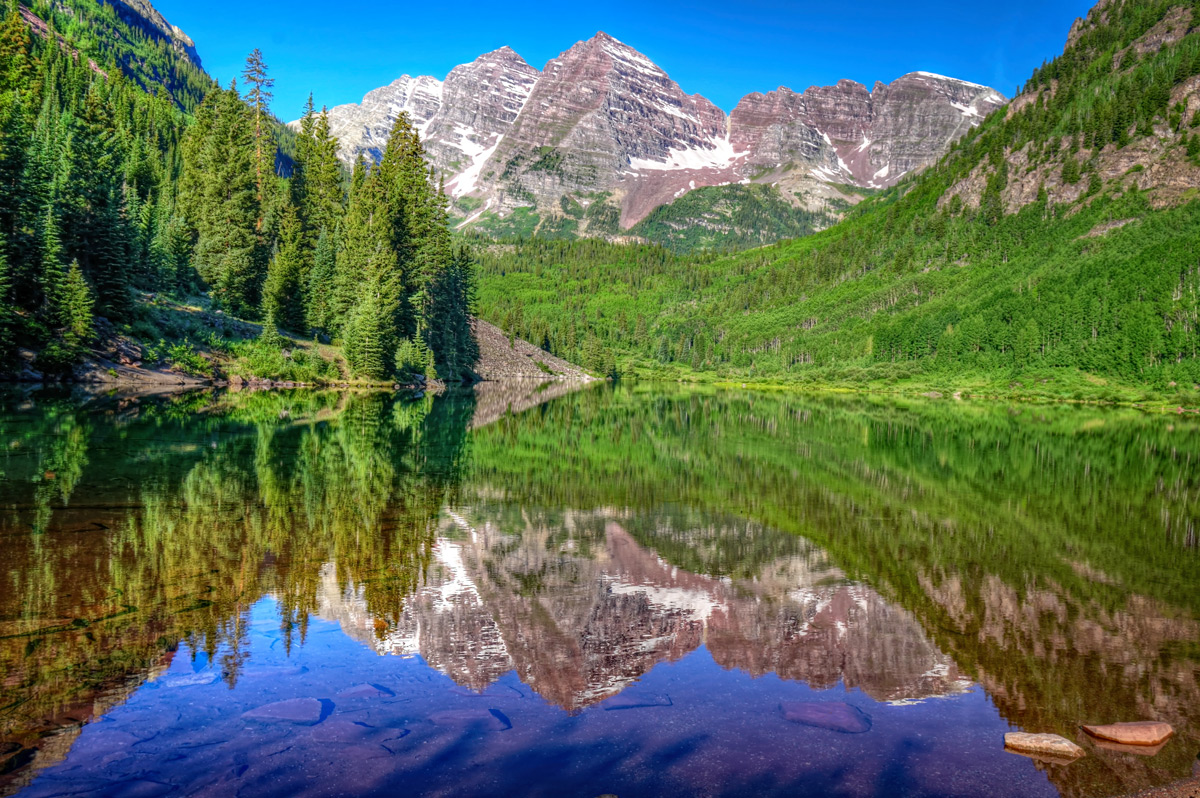 Reflecting Bells
Some landscape scenes just make a person wonder, "Did this come about by random processes or did God create and design this just for our enjoyment?" The Maroon Bells near Aspen Colorado may certainly evoke such a thought. Majestic in size and elevation, their beautiful symmetry and unusual form seem to defy random processes of erosion. These peaks are iconic to the Colorado Rocky Mountains and are probably the single most photographed location. The view shown here is almost cliché, it's been photographed so many times from this exact location, but this is nevertheless a classic photo and one which people certainly enjoy.
Thus, in late June of 2018, while visiting this area to climb some summits not too far away, we spent some time early in the morning as the first bus-loads of tourists began to arrive, taking some photos to add to our collection. Not only must early morning shots deal with hundreds of tourists in the way, but also a deep shadow on the left-hand side of the scene that obscures detail. To overcome this difficulty, this image is an HDR image that has combined five photos of the exact same scene shot at differing exposures. The result, as one can see, is a photo with greater detail in the shadow areas, but still not overexposed in the brightly lit areas, and a classic reflection.
Waterdog Fall
Autumn in Colorado can be a glorious time of year. The leaves changing color; cool, crisp air; intensely clear blue sky with puffy white clouds; a freshness that comes with relief from the summer heat, all combined to invigorate us and draw us to the high country. This particular photo was taken on the Grand Mesa in late September of 2012. This was one of those special days and we had elected to take a mountain bike ride on one of the many mesa-top trails that led us to Waterdog Reservoir. The Grand Mesa is home to an estimated 200 or more lakes and reservoirs that offer great fishing opportunities. As we paused for a break here, the beauty of the scene delayed us even longer. Good thing we had brought a camera. We wish a photo could also convey the crispness in the air we felt that day and how alive it makes your senses, but you'll just have to rely on your own imagination.
Alpine Waterscapes