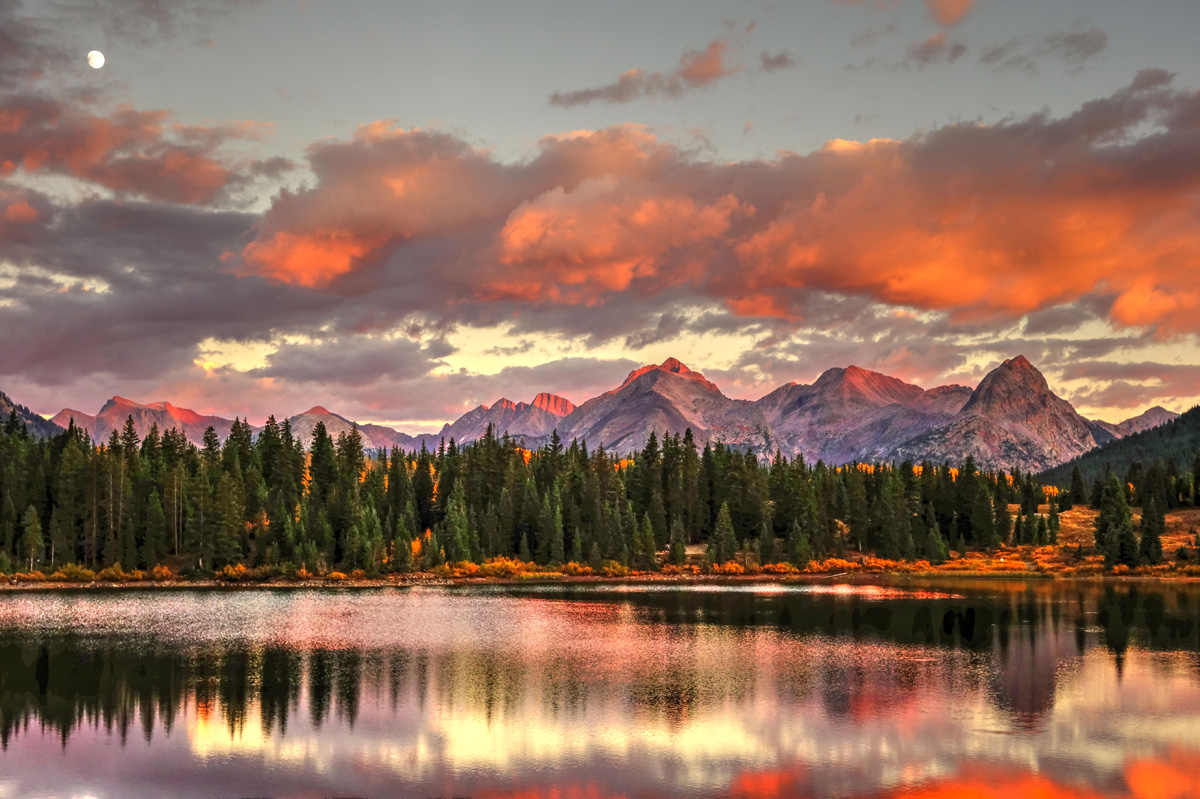 "Breathtaking"
Our most popular & best-selling image. Makes a spectacular infused-aluminum print.
There is a portion of a verse in the Bible book of Job in which a friend named Elihu exhorts the suffering Job concerning his trials. He tells Job, "Stand still and consider the wondrous works of God." A scene like this certainly causes one to pause and just stand in awe.
Molas Lake sits at a high elevation near Molas Pass, south of Silverton on Highway 550. We were returning to Colorado from a week of fall vacation in Utah and decided to drive from Durango, north over Red Mountain pass to view the changing fall colors. As the sun began to set, we hurried to Molas Lake, hoping to catch some nice color as the sun set and the nearly full moon began to rise. Our expectations were enormously surpassed by what we saw. Grabbing our cameras, we only had a few minutes to capture images of the illuminated clouds, the reflective lake and the glowing Grenadier Peaks.
HDR image taken late September 2015.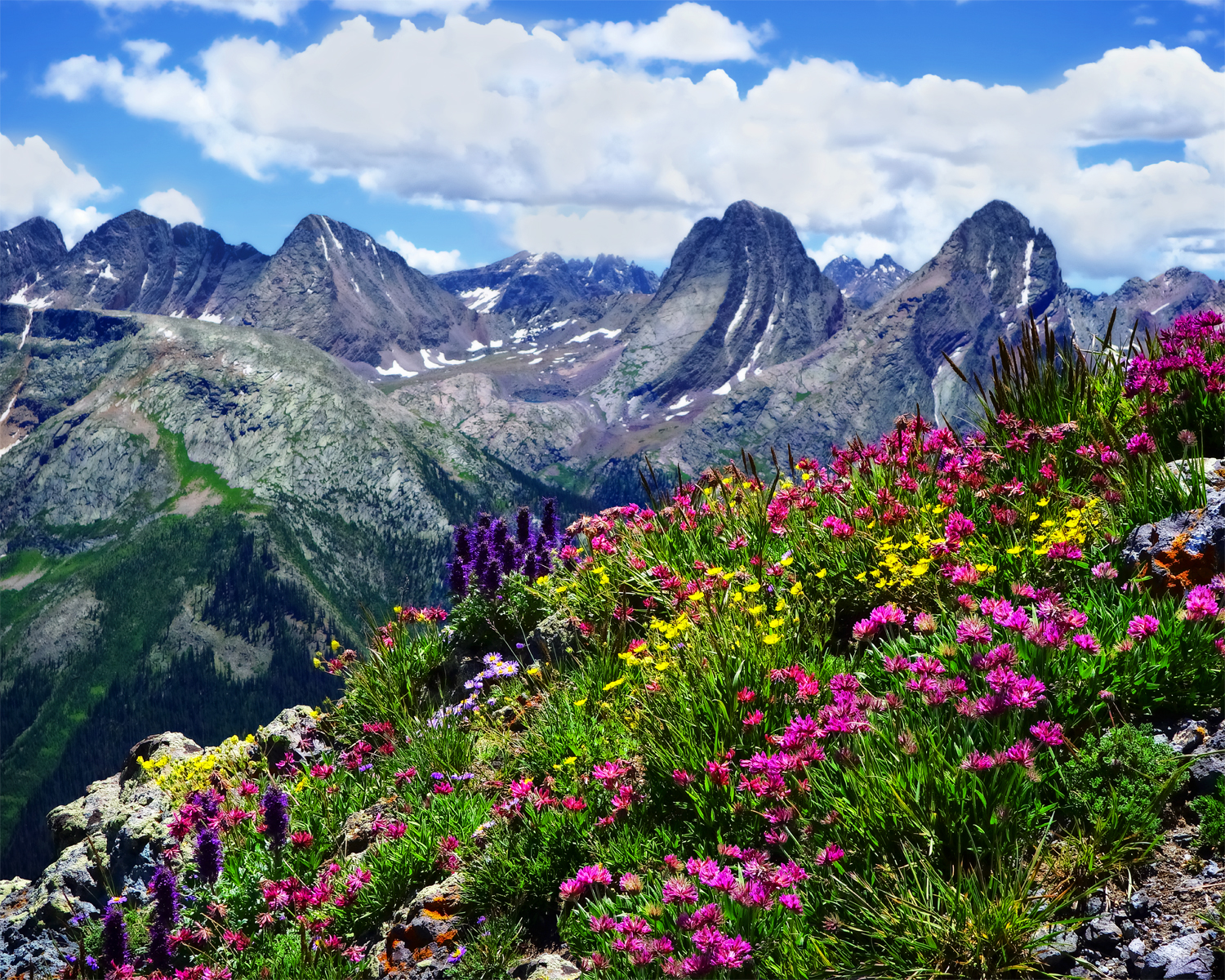 "A Flowering Spectacle"
One of our most popular and attention-grabbing images.
A bedazzling display of wildflowers awaited us on a peakbagging mission to capture the Grenadier Range of peaks from a seldom visited vantage spot. The two prominent peaks right of center are Vestal and Arrow. To the left are the "Trinities." The flowers in the foreground were found near the summit of a high 12er located about 4 miles north of Vestal and Arrow and north of the Elk Creek drainage in the Weminuche Wilderness.
We had hiked to the summit of that remote 12er to obtain this view on a warm July day by driving from Silverton and up Cunningham Gulch to a trailhead that leads to the Highland Mary Lakes. In that high plateau of richly-flowering tundra, we walked several miles to reach the unnamed 12,000 foot summit. To our surprise, just below the summit, we found this spectacular display of wildflowers to create the perfect foreground for Colorado's most dramatic peaks.
Photo taken late July, 2015.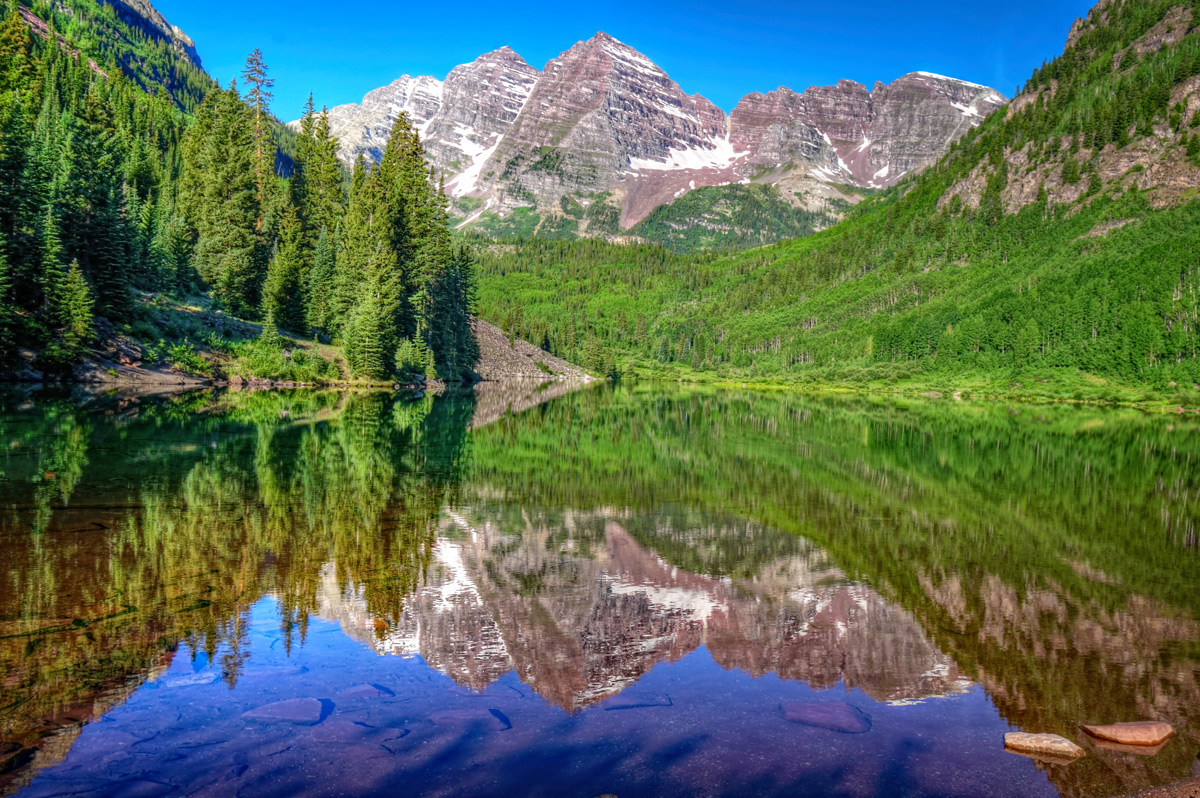 Reflecting Bells
Some landscape scenes just make a person wonder, "Did this come about by random processes or did God create and design this just for our enjoyment?" The Maroon Bells near Aspen Colorado may certainly evoke such a thought. Majestic in size and elevation, their beautiful symmetry and unusual form seem to defy random processes of erosion. These peaks are iconic to the Colorado Rocky Mountains and are probably the single most photographed location. The view shown here is almost cliché, it's been photographed so many times from this exact location, but this is nevertheless a classic photo and one which people certainly enjoy.
Thus, in late June of 2018, while visiting this area to climb some summits not too far away, we spent some time early in the morning as the first bus-loads of tourists began to arrive, taking some photos to add to our collection. Not only must early morning shots deal with hundreds of tourists in the way, but also a deep shadow on the left-hand side of the scene that obscures detail. To overcome this difficulty, this image is an HDR image that has combined five photos of the exact same scene shot at differing exposures. The result, as one can see, is a photo with greater detail in the shadow areas, but still not overexposed in the brightly lit areas, and a classic reflection.
"Winter Bells"
Makes an outstanding infused aluminum print:
For many years, we had wanted to cross country ski into the Maroon Bells during the winter and capture these unique mountains in their winter cloak of snow. It was February of 2008 and the Friday evening forecast indicated a clear day to follow. Arising early Saturday morning, we left our home at 6:00 AM and drove straight to Aspen and up the Maroon Lake road to the end of the winter maintenance. By 9:00 AM we were underway, skiing on 4 - 6 inches of new, untracked snow. We were the first to head up this day.
Arriving at Maroon Lake just before noon, we broke out the camera and began shooting. This particular winter had seen heavy snows in the mountains and we found the peaks blanketed and the lower terrain around the lake buried in six to eight feet of snow. We marveled at the snowy landscape and the silence. Amazingly, we were here all alone.
As we sat eating our lunch, we took this photo. The clouds to the right signaled an approaching weather system. In fact, within another 45 minutes, as we skied out, the skies became completely overcast and gentle snow began to fall. We felt so fortunate to have enjoyed this brief glimpse of these magnificent peaks in all their winter glory.
"Serenity"
Our dictionary defines the word "serene" as "having the quality of utter calm." Certainly suits this photo. The tranquil and gently flowing waters of "Noname Creek" reflect the distant peaks with a late evening sun casting a warm glow as puffy clouds mark the departure of a passing shower.
Colorado's largest and most diverse wilderness area is the "Weminuche Wilderness," located in the San Juan Mountains. Over our 40 years of climbing Colorado peaks, we have visited this part of the wilderness a dozen times or more. Remote and difficult to access, it always proves to be worth the effort, even though it may mean miles of backpacking to reach your desired destination.
This photo was taken mid-July of 2012. The day had begun clear and sunny and included a climb up "The Heisspitz." Following the climb, we packed on upstream several more miles and found a beautiful campsite about 100 yards from the stream in a tall group of conifers. That evening, after a rain shower interrupted our dinner, we were over at the creek filtering water for our next days climb. As the storm clouds cleared away and the evening sunlight broke through, we enjoyed this serene scene by Noname Creek and a spectacular sunset.
Pyramid Scheme
Makes a stunning infused-aluminum print.
The Elk Mountains are noted for their rugged and rotten beauty. Those who ascend the six, fourteen-thousand foot peaks located in this range know all too well the hazards that await them when it comes to the maroon-brown sandstone rock that gives many of the peaks their unique color.
Pyramid Peak is one of those six – 14ers, rising to 14,018 ft. Pyramid ranks as the 47th highest of the 14ers, but don't let that lower ranking fool you. Climbing Pyramid Peak is no easy job, especially navigating all the loose, broken rock that's found in abundance all along the route, and that's what causes us to associate a "pyramid scheme" with this mountain.
In a pyramid scheme, the more recent investors form a foundation of financial support that funnels money to the older investors. Usually, a pyramid scheme fails at some point when no more new investors can be found. When the scheme fails, the entire structure collapses with the latest investors losing everything. Pyramid Peak seems similar to us in that this seemingly secure mountain of rock is really just one loose pile of rubble stacked upon another and you're left wondering when it all may come crashing down some day.
This photo was taken in late June of 2018 on a hike that took us to a couple of high, twelve-thousand foot summits near Buckskin and Willow passes. Taking what we thought would be a short-cut back to Maroon Lake, we encountered this magnificent view of one of Colorado's most dramatic summits in the later afternoon.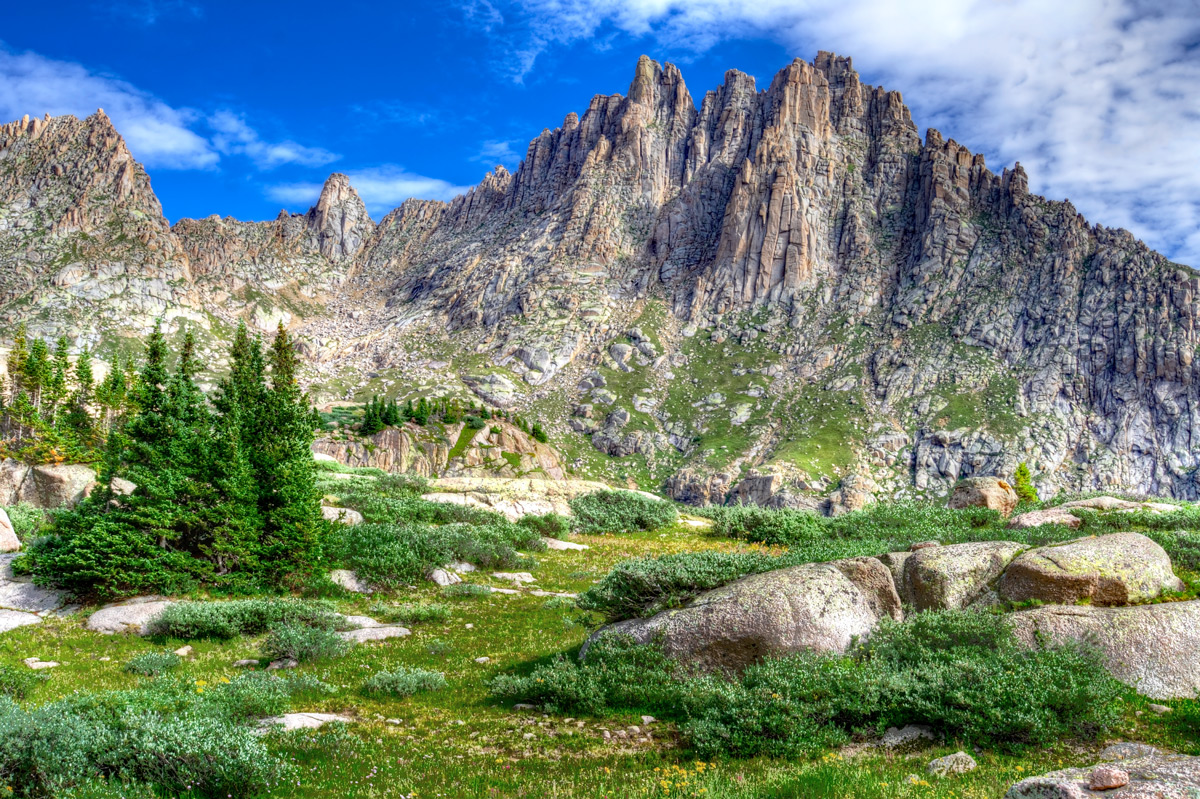 On the Jagged Edge
Makes a spectacular infused-aluminum print.
Jagged Mountain has an elevation of 13,824 ft., and is ranked as the 94th highest summit in Colorado. Located in the very heart of the Needle Mountains of the vast Weminuche Wilderness, Jagged is one of the most difficult summits to reach, usually involving one or more days of backpacking. The summit is located in Sunlight Basin – a large drainage area northeast of the fourteener, Sunlight Peak. The basin is one of the most outstandingly beautiful places in Colorado. A sketchy, non-maintained trail leads into this isolated section of wilderness, and over a decade ago, winter avalanches had swept down so many trees, that the trail became obscured and almost impossible to navigate for several years – at least with a backpack.
However, in 2018, we received some information indicating that the trail was at least partially restored so we planned a five-day backpack trip here primarily to photograph this extraordinary area while we still had the physical stamina to reach it. Having climbed Jagged in 1994, ascending it again was not our goal, however, we did climb Peak Ten, located as a diminutive point to the left in this photo. While that lower summit offered some challenges, Jagged still remains as our favorite Colorado peak to climb and one of the few 13ers, that receives a low, fifth-class rating. HDR Image
Palisades of the Cimarron
Located southeast of Montrose, CO and east of Ridgway lies an area of rugged mountains defined by three forks of the Cimarron River. Much of this terrain lies within the Uncompahgre Wilderness or within the Uncompahgre National Forest. The area classified as wilderness occupies over 100,000 acres.
Between the three major forks of the Cimarron River are north-south oriented mountain ridges that are punctuated by ragged, exposed cliffs, spires and pinnacles that are so rugged, they deny even experienced climbers their lofty heights. This array of formations creates a unique scene not frequently found in other Colorado mountain locations.
The location for this photo is just south of the Silver Jack Reservoir and can be reached by driving in from either near Ridgway or the small town of Cimarron. When we visited here in late September of 2018, fall colors were just beginning to show themselves in the aspen located below the palisades and ramparts that tower above the reservoir. Those beginning fall colors and a beautiful Colorado fall day provided the perfect recipe for another colorful photo. HDR Image
Gold In the Hills
We have sometimes heard folks from back east complain that our Colorado fall colors don't compare to the variety of colors to be found in the eastern and northeastern states. While that may be the case, we still find a mountainside of aspens changing into their fall colors to offer a breathtaking display. Couple that with a richly blue Colorado sky, the fall tundra and a dusting of early season snow on the high peaks and you have the recipe for an amazing presentation of color.
This scene depicted here was taken in the vicinity of Ironton, which is located along US 550 south of Ouray, CO. While this area was once known for its treasure of the metal gold, the abundant display of changing aspen now offer another type of gold to be enjoyed. We had returned from a week-long vacation mostly spent in Zion National Park, participating in a variety of activities like canyoneering, mountain biking and hiking with some photography as well. Returning to Grand Junction, we quickly switched gear and headed back out for some colorful, Colorado fall photography. After a week of desert scenes, it was refreshing to not only return to our beloved Colorado mountains, but to also see the aspen in such dazzling array. It was right at the end of a severe year of drought, so we had not expected much color, but as you can see, we were wrong! Sept. 2018
Chimney Rock Fall
Aspens Aglow
Probably just about every outdoor, landscape photographer in Colorado wants to have a few fall aspen photos in their repertoire. While the vast majority of aspens turn a golden color, a few will turn orange or even red as seen in this photo. Photographically, the red ones are prized for both their rarity and the dramatic photos they can create.
So why do a few aspen trees turn red while most all others do not? It turns out that those trees that produce the red leaves produce in the fall a pigment called anthocyanins. While all aspen produce carotenoid pigments, only a few have the genetic characteristics to produce the anthocyanins, and what purpose these have is not clearly understood. While trees without the ability to produce the anthocyanins will never be red, weather can also play a factor for those that have special pigment, because some years, they may not turn red. The conditions most favorable for the red-leaf production seem to be warm, sunny, fall days with cool but not freezing nights.
We found these trees located on the lower elevation end of Ohio Pass. That pass is located between Gunnison and Kebler Pass at the upper end. The photo was taken fall of 2018.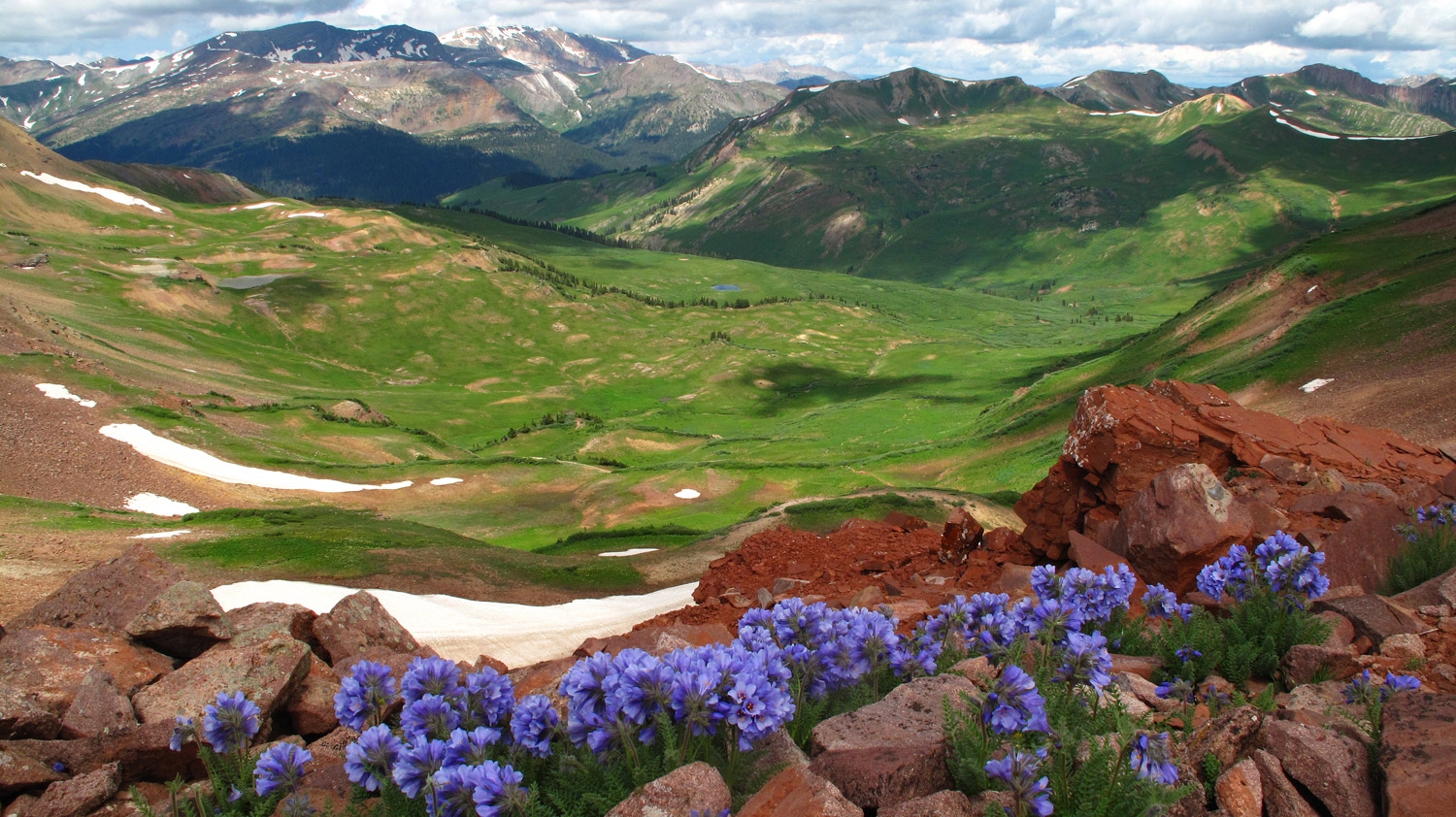 "Bluer Than Blue"
A song recorded in 1978 by Michael Johnson bears the title, "Bluer Than Blue." A portion of the chorus goes: "But I'm bluer than blue, sadder than sad; you're the only life this empty room has ever had..."
A display of Sky Pilot (a variety of Polemonium) like that seen in this photo makes us think of those lyrics. The vivid blue flowers certainly add life to a photo as they do here. Combine them with puffy white clouds against a Colorado blue sky, distant mountains, green valleys and the reddish-maroon rocks of the Elk Mountains and you have a perfect combination of complementing colors.
This wide angle photo was taken mid-July of 2013 as we were traversing West Maroon Pass to climb Belleview Mountain on the west side of the pass. When we came upon this bright display, all three of us broke out our cameras, dropped to our knees to get close and spent a good twenty minutes photographing these flowers from every possible angle. The green valley below is the south side of West Maroon Pass where the East Fork of the Crystal River originates. The distant peaks are Treasure Mountain and Treasury Mountain located south of the small hamlet of Crystal. This scene could make a perfect over-the-sofa photo for any home.
"Pathway to Adventure"
Over our 35+ years of hiking Colorado mountains, we have walked on many trails - literally covering thousands of miles. We've also accumulated a number of "mountain path" photos. Most of them are of little value, but a few do evoke an emotion.
This trail starts just out of Vail and leads up Bighorn Creek to a lush valley in the middle of the Gore Range. What that range of mountains may lack in the number of high peaks, it makes up for in ruggedness. Most of the Gore Range summits are quite difficult. That rugged beauty is often then offset by verdant meadows, high lakes and lush displays of alpine flowers. The trails accessing these areas out of Vail start out quite steep and make for difficult backpack trips, but eventually "mellow out" as they gain access to the higher basins.
On this trail, in late June of 2010, we had to pause and photograph this vibrant group of ferns that edged the trail along a short section where things leveled out a bit. It seemed to call to us to stop and relax for a few moments and enjoy the luxuriant vegetation. So we heeded the call as we enjoyed the melody of the little trickling stream close by.
"Grant Me a View"
The San Juan Mountains of southwestern Colorado offer a wide variety of terrain that ranges from vast, tundra-covered, high plateaus to extremely rugged and difficult peaks. One of the more popular areas to visit is Ice Lake Basin, located near Silverton. This area is known for both its magnificent flower displays and also the rugged peaks that surround the reflective lakes of the basin.
U.S. Grant is the name of the peak in the center of the photo. It is flanked on the left by Fuller, Vermillion and Golden Horn and on the right by V.3. It has a brief, 3rd class section followed by rugged, Class 2+ ascending. This photo was taken from near the summit of South Lookout Peak, an even more rugged and difficult summit to obtain. Climbers will usually find South Lookout more comfortable to climb when equipped with rope, hardware and helmet. But the difficulty of obtaining the summit is soon forgotten when you're greeted with a view like this.
Photo was taken early September, 2013. This was our second visit to this dangerous summit to assist our climbing friend in completing his goal of summiting all the Colorado 13ers. Most likely, this was our final ascent of South Lookout Peak.
"I've Got the Blues"
The Elk Mountains near Aspen, Colorado have always drawn those seeking rugged adventure. The reddish-maroon colored rock on so many of the peaks tends to have a "rotten" character to it, but that same rock provides an extra splash of color for photographers.
This photo was taken summer of 2013 just above the crest of West Maroon Pass. We were on our way to climb Belleview Mountain, which is a lower 13er, positioned on a ridge south of the much more famous Maroon Bells. The summit of that peak is to the upper right in this photo. As we approached the pass, we were greeted by this outstanding blue display of "Sky Pilot," a type of Polemonium that has a pungent, skunk-like aroma. This vivid blue provided a beautiful contrast to the distant reddish-maroon rock and green tundra slopes.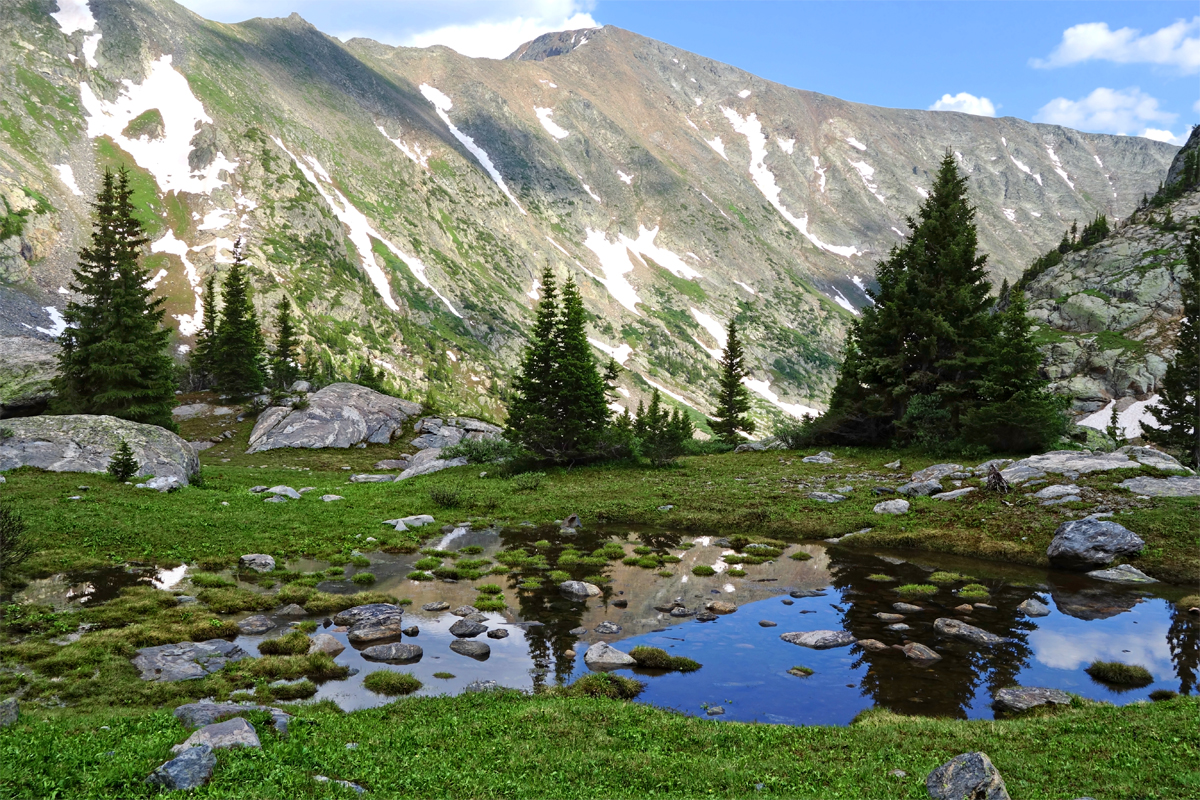 "Savage Wilderness"
This photo was taken mid-July of 2014. The location was in the Holy Cross Wilderness and the upper Carter Creek drainage. We had never been in this area before and were drawn here by the lure of climbing some high, rugged, 12,000 foot peaks. A difficult backpack that involved some serious bushwhacking brought us into this area. The unbelievable scenery was reward enough, but the photos we captured here were the icing on the cake.
Words fail to describe how beautiful this area was. In all respects, it was "classic" Colorado high country. Numerous lakes and reflective tarns, cascading streams, abundant wildflowers and lingering winter snows combined to make this three day trip one of the most memorable we have ever enjoyed.
The shallow tarn in the photo reflects a 13er called "Savage Mountain." On the opposite side of the peak seen here, a gigantic gash is viewable from the Missouri Lakes trail above Homestake Reservoir. Perhaps that deep wound in the mountain gave rise to it's name.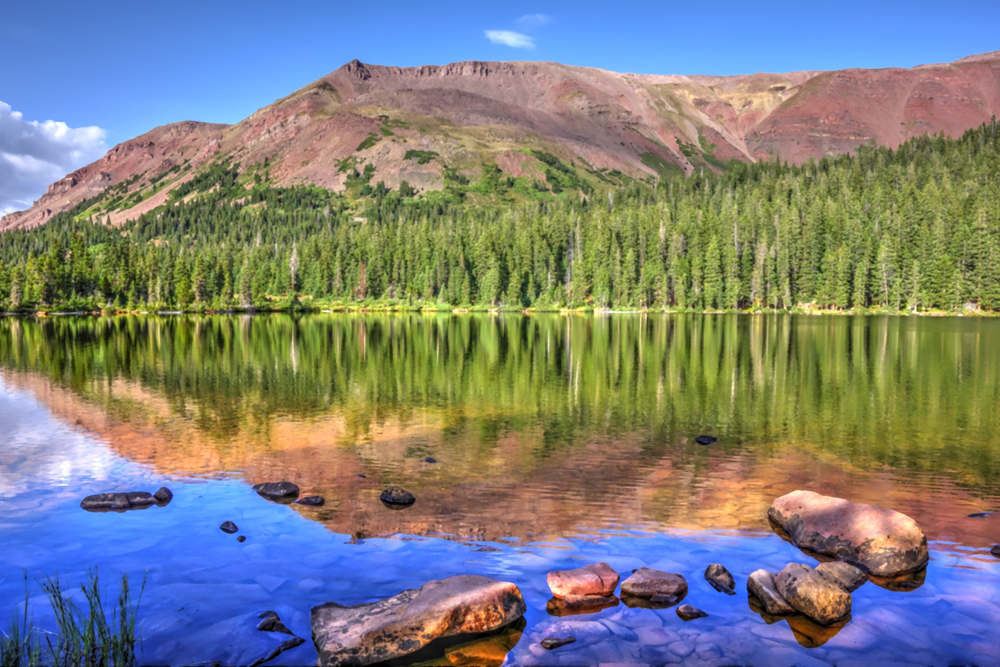 "A Million Dollar View"
The highest peak in Utah is Kings Peak at 13,528 ft. The easiest and shortest access to it is by backpacking up the Henrys Fork trail from the north side of the Uinta Range. This popular trail leads past a favored backcountry camping area by this splendid lake called "Dollar Lake." On summer weekends, the area may be overcrowded with many backpackers who desire to add Utah's highest point to their list of summit achievements. But on weekdays, other backpackers may find this serene place all but deserted.
In late August of 2015, knowing about the weekend crowding, we scheduled a five day trip to this remote location and enjoyed the serenity of these surroundings with only two other persons besides ourselves. One of the evenings there, as daytime storm clouds dissipated, we walked over to the lake and captured this amazing, wide-angle scene as the late afternoon sun began to illumine the mountain peaks. We don't know the story behind the name for Dollar Lake, but we think this was a "million dollar view."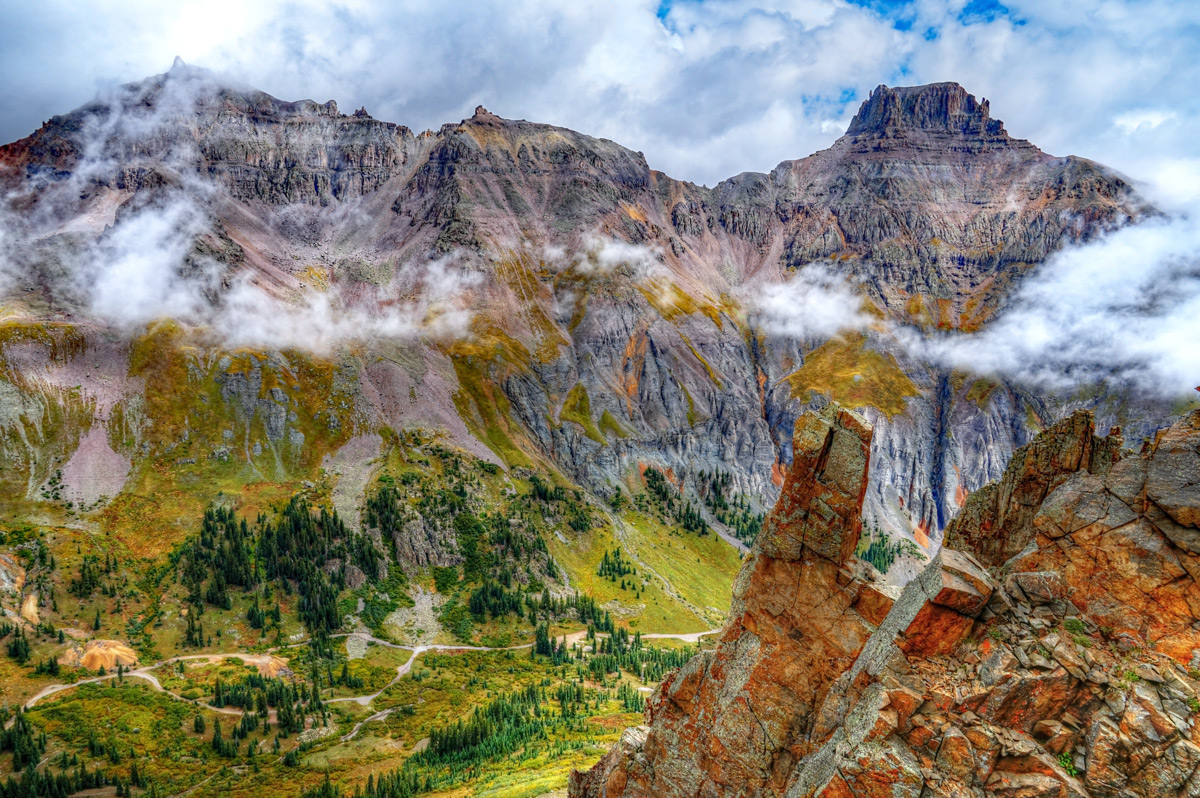 Yankee Boy from Above
Yankee Boy Basin, located southwest of Ouray, Colorado is a highly popular summer visitation area. Frequent jeep-tour groups along with personal vehicles visit the area daily. A road leads far up into the basin, however, above the turnoff for Governor Basin, the road is generally regarded as four-wheel-drive with good ground clearance needed. The basin has been the site of numerous mining operations and while a few are still active, it receives most of its visitations from tourists who come to see its vibrant and prolific display of summer wildflowers.
Yankee Boy Basin is surrounded by high and precipitous peaks with the fourteen-thousand foot Mt. Sneffels dominating the landscape. Several other prominent 13ers form a protective ring around the basin. These include Teakettle, Potosi, Gilpin, Emma and Cirque.
Though we have frequented this location on several occasions to climb the above-named summits, Labor Day weekend of 2018, we spent an evening and a day here primarily hoping to catch some good photographs and still climb Stony Mountain, a twelve-thousand foot peak which sits in the middle of the basin. The somewhat uncooperative weather with light rain and lower-clouds provided a great backdrop for this photo taken from near the summit of Stony. Seen in the distance are Teakettle to the left, "Coffepot" near the middle and the dramatic Potosi to the right.
HDR photo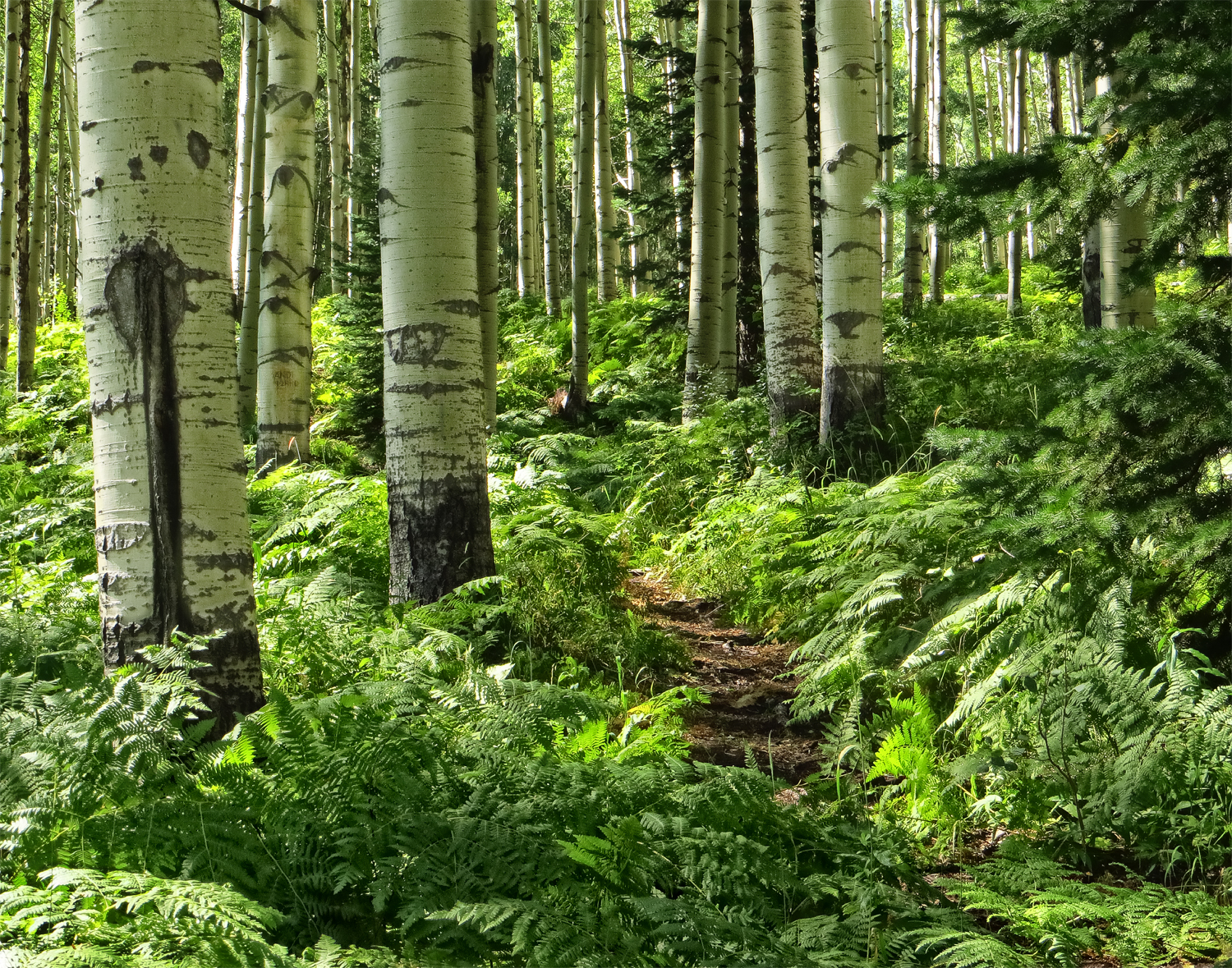 "Fern Forest"
A drive over Kebler Pass can offer an array of scenic views that vary throughout the months. In mid-summer, the well-graded dirt road passes through an area where the forest floor is covered in vigorous and tall ferns that grow amid the aspens. A scene like this just invites one to get out of the car and take a stroll through the cool light.
Sunlight coming in from above is filtered by the aspens, but still enough reaches the ground to support this lush growth of ferns. The filtered sunlight, the coolness of the grove, the lush vegetation and a trail leading through the ferns beckons one to explore or just find a fallen tree or log to rest upon and listen to the quaking of the aspen leaves high up where the breeze still reaches and birds sing their sweet summer songs.
Photo taken July, 2015. Makes an excellent direct print to a plaque.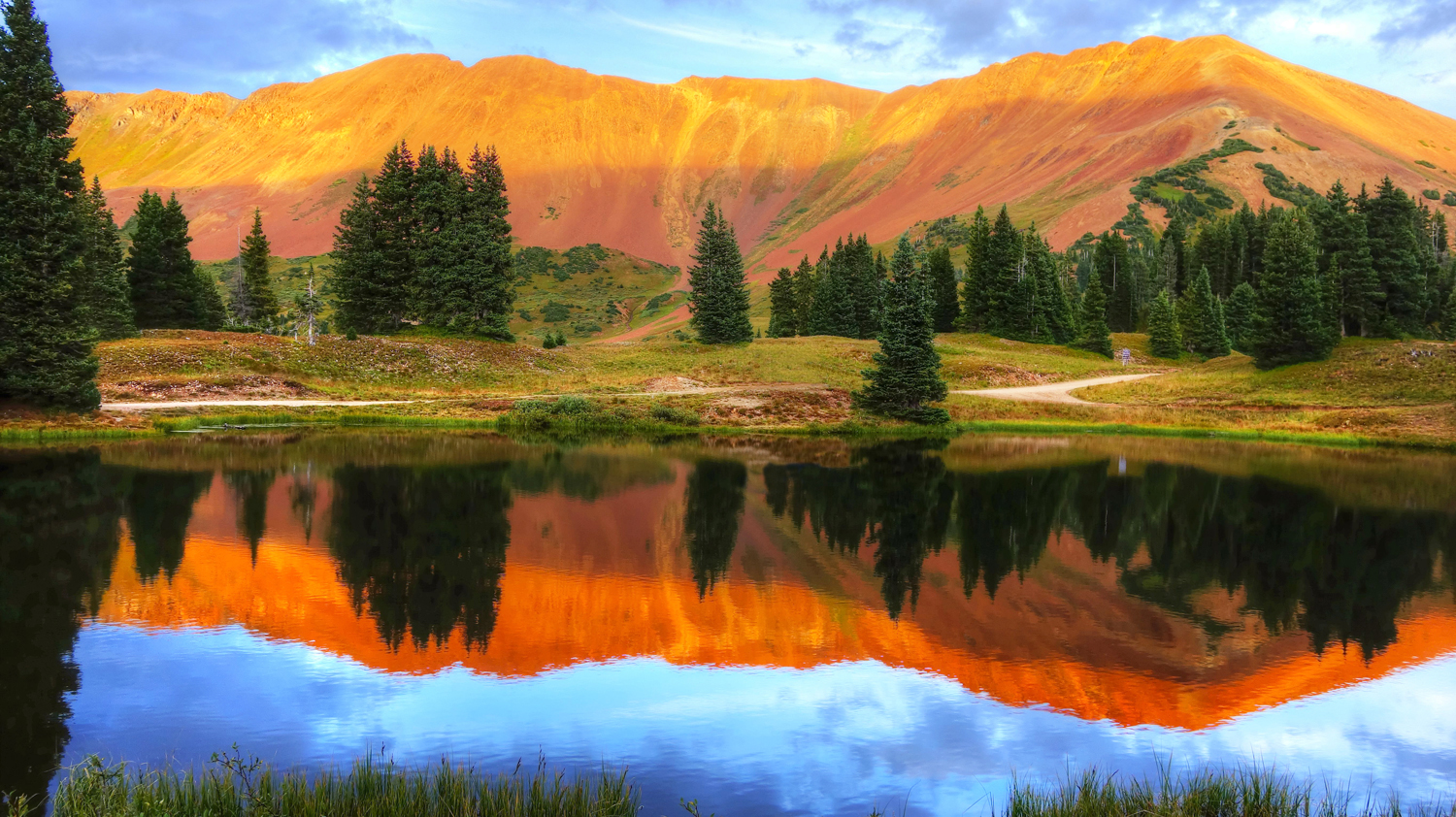 "A Baldy Reflection"
Long weekend plans don't always turn out as hoped. Such was the case, Labor Day weekend of 2015 with Colorado weather failing to cooperate once again. We had planned a three day trip to the mountains near Crested Butte and hoped to climb four higher, 12,000 foot summits. Rain on the first and last days reduced our trip to two summits on the middle day.
From Crested Butte, we drove on a popular 4WD road to Paradise Pass. The mountain featured here is Mt. Baldy - appropriately named for it's lack of vegetation/tundra. We hiked to the summit of this peak in the morning from the pass and then spent the afternoon hiking to another summit not far away, on the other side of the pass.
This one clear day offered some outstanding scenery and photographic opportunities. The little pond at the top of the pass offereda perfect reflection of Mt. Baldy as the evening sun began to set. Even though 4WD traffic was fairly regular passing by, it still could not disturb the serenity of this beautiful, evening scene.
"Gathering Storm"
Makes a beautiful and stunning infused-aluminum print.
A three day, Labor Day trip to Crested Butte was supposed to net four, 12,000 foot summits, but the fickle Colorado weather had other plans for us. With the first day entirely rained out, we drove to the top of Paradise Pass - a 4WD road northwest of the town. On our second day, we were able to climb two of those summits and then spend an evening at the top of the pass, enjoying the scenery from a campsite located near this reflective pond.
The weekend forecast had indicated good weather for the following day. Little did we know that the gathering clouds seen here would portend another day of rain. But "ignorance is bliss" as the saying goes and so we spent the evening at this high camp, taking photos of the still pond and the evening sun breaking through under the clouds to illumine the landscape. Was the rainy trip worth the effort? In our book, even five minutes in a paradise with a view such as this makes it all worthwhile.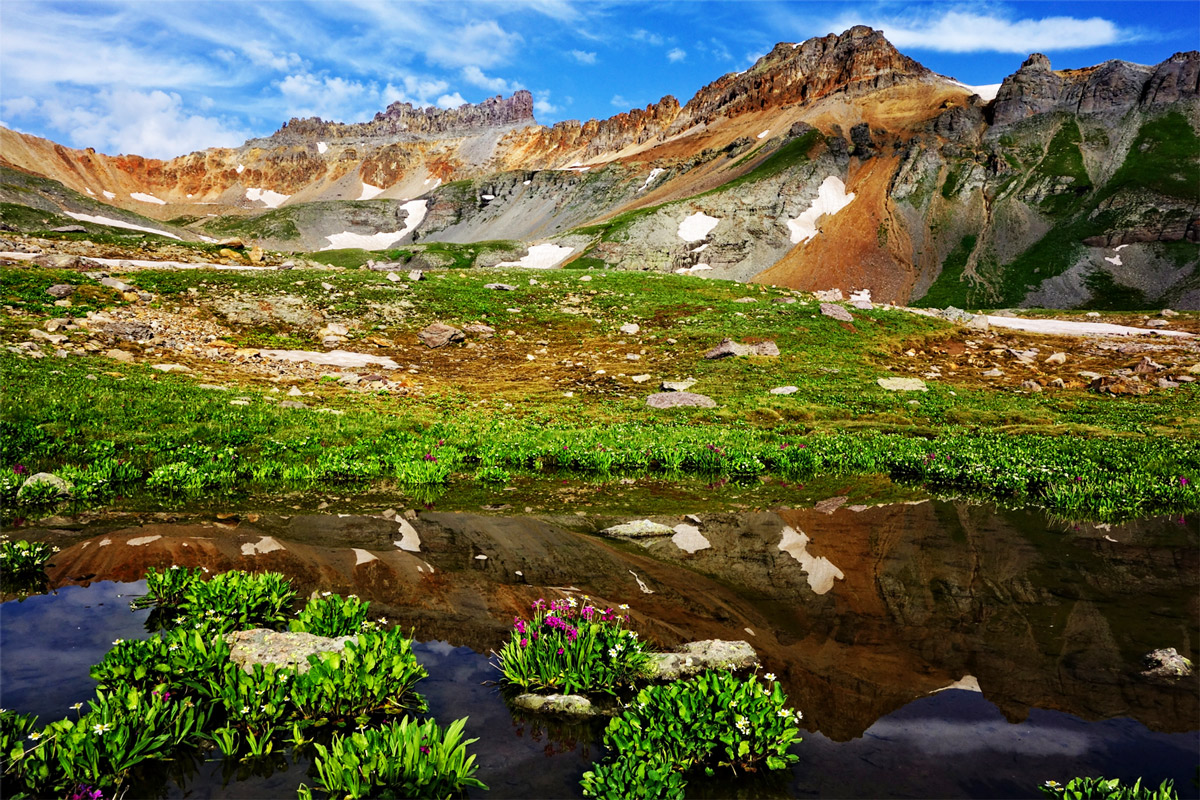 "Pilot Knob"
Just west of Silverton, CO, is an area that probably holds second place to the Maroon Bells for its scenic value and the crowds it draws. Ice Lake Basin throughout the summer is a hiking and backpacking destination for those willing gain the over 2,000 feet in elevation and endure the sometimes harsh weather. The reward is unparalleled scenery. The lower basin boasts a lush growth of flowering vegetation with several small lakes and ponds thrown in and stands of tall evergreens. The upper basin is above tree line and puts on a display of wildflowers as well, but of a different sort.
Many hikers will make it to the large lake in the upper basin. Few will venture beyond. Those who do are primarily interested in climbing the high peaks. The summit just left of center that looks more like a rugged, horizontal ridge is called "Pilot Knob." At 13,738 feet high, it ranks as number 131 among Colorado summits. I have climbed this peak twice. This photo was taken late July of 2014 when I accompanied my son who needed a partner to ascend this 3rd class summit. Amid the amazingly beautiful surroundings, our day was made a little more somber knowing that just a few days before, a solo climber had died on this very peak.
"Pristine"
As we were approaching the last couple years of our efforts to climb all of Colorado's ranked 13ers, one summit we had been putting off because the simplest route appeared to be a tedious and long trek up a boulder/talus field and into a steep, unstable, rock-filled couloir. When we did finally climb "Finnegan Peak" in 2011, we found what we expected in regards to the climb, but what we did not expect was this outstanding scene at New York Lake which lies below Finnegan Peak on the west side.
What an amazing, "classic Colorado" scene! It takes nearly three hours of hiking a faint, cairn-marked trail to reach the outlet of this pristine lake, but it is certainly worth any travail. The reflective and pristine waters of the lake are a richly beautiful teal color. The lake itself stretches back nearly a half mile to the foot of Gold Dust Mountain centered in this photo. The white snowfields and deep morning shadows set the scene off and a splash of green is added by the conifers. The clear waters of the lake offer not only views of the rocks beneath the surface, but also trout swimming by feeding or sunning themselves. Both before we began our ascent and immediately after our successful climb, we had to pause for quite a while, cool our tired and beaten feet in the lake waters and enjoy this spectacular and pristine setting.
A Colorado "Shangri-La"
Carter Creek is located in a remote and difficult to reach section of the Holy Cross Wilderness. Flanked by some of the states highest 12,000 foot summits, there are over a half dozen lakes in this drainage teeming with trout and a robust stream fed by abundant winter snows. Near the headwaters of Carter Creek, the rugged mountains and large snowfields along with greening patches of tundra combine to give this special place an "Alaskan" feel, yet a half-day backpack can deliver one into this remarkable wilderness. Protected by high mountains, we were so impressed with this location, we decided to call it a "Colorado Shangri-La."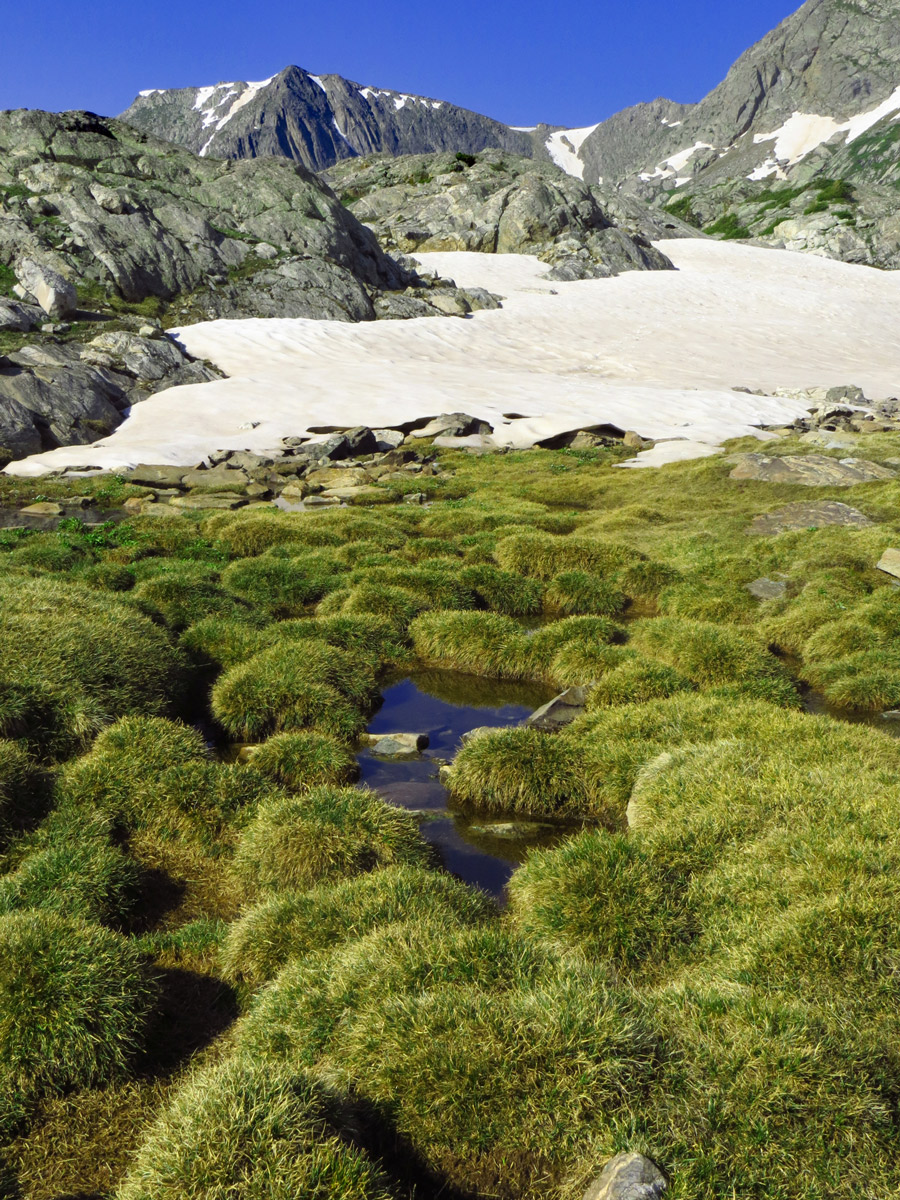 Tundra Tufts
At elevations above tree-line in Colorado, the growing season is very short. The receding patch of snow in the background has finally, in mid-July, left these tundra tufts exposed to the bright, warming sun and a Colorado blue sky. The tufts will only have a month at best to grow their grasses and display any small wildflowers that may still emerge. By the third or fourth week of August, the first fall frost will arrive. Shortly after, the tuft grasses will begin to turn a nice yellow color, then tan for the long winter months. Snow will cover them once again for perhaps as long as ten months, during which time, they lie dormant, waiting for their next short season to grow again for another season.
The tufts pictured here were found in the headwaters of Carter Creek, located in the Holy Cross Wilderness, but similar examples can be found in the alpine areas across the state.
Photo taken July 2014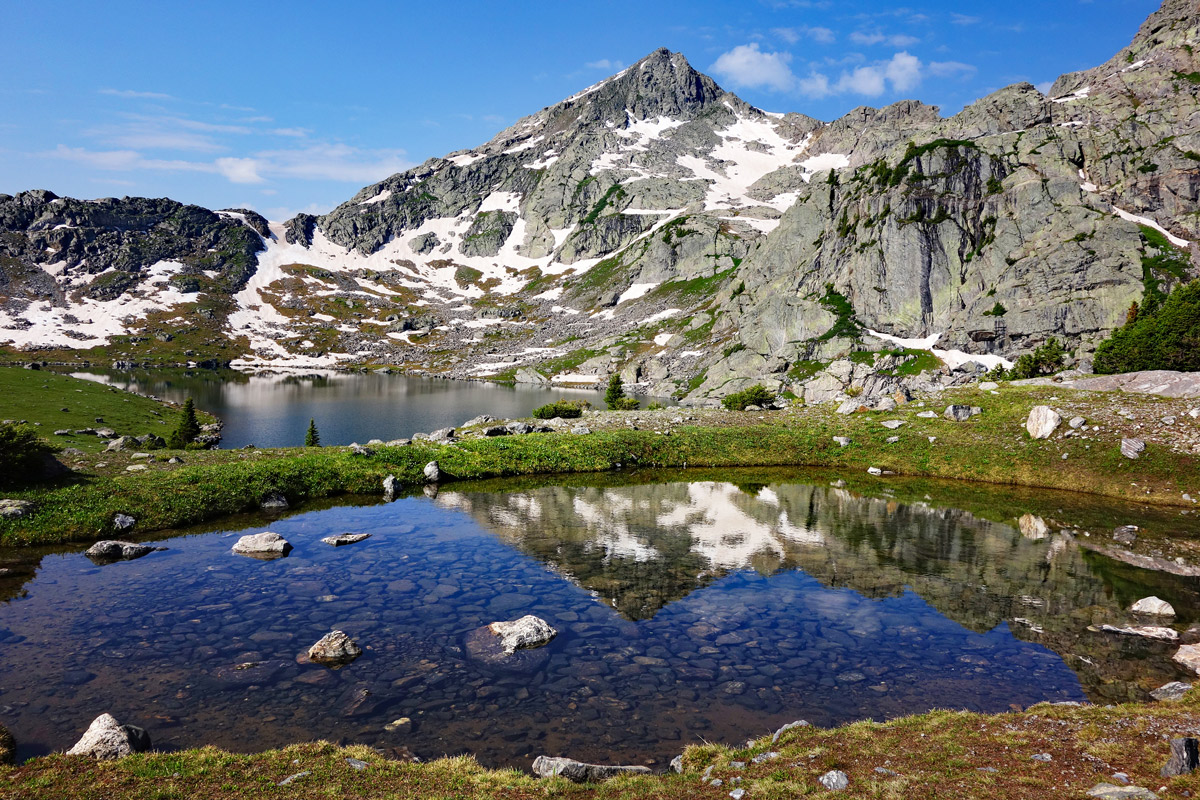 Tundra Tarn
Technically, a "tarn" is a small lake usually created by glacial action. A looser definition is simply "a small, mountain lake," which is how we often use the term. The word, with its Scandinavian origin sounds much better than "pond" anyhow. Pictured here then is a small, reflective tarn with waters so clear and shallow, you can easily see the rocks at the bottom. Behind the tarn to the left and much larger in size is Blodgett Lake, located at the head of Cross Creek in the Holy Cross Wilderness. The mountain being reflected in the tarn is a high, but unnamed twelve-thousand foot peak. We backpacked, then hiked from a base-camp to this location from Carter Creek. In a previous photo, we describe the headwaters of Carter Creek, isolated and difficult to reach, to be a Colorado "Shangri-La." Beautiful and pristine, this wilderness setting offers a mountain utopia for any who are willing to expend the effort to reach this scenic location.
Streams of Living Water
People often ask us, "What do you like most about the mountains?" The answer comes easy, when you stand viewing a scene like this. The desert is a place of struggle. Life desperately hangs on, scrapping for every drop of precious water it can cling to. The mountains are like the source of life. Waters streaming down from rugged peaks give rise to flowering meadows and trees growing toward a Colorado azure sky. When you're in the desert, you may come away feeling like you've struggled and fought an arduous battle. We sometimes enjoy that challenge. But in the mountains, you feel like you're in the very presence of life itself. Even if we've endured hardship to climb some peak, we still come away feeling refreshed and restored. The relief of the cool, crisp mountain air from the oppressive summer heat of the plains below; the streams we cool our hot and tired feet in after a long day of hiking; a restorative night of sleep cradled by a warm sleeping bag against the cool air all compound to increase our enjoyment.
But as restorative as those mountain waters are, we're reminded of something that Jesus of Nazareth said, recorded in the Gospel of John: "If anyone is thirsty, let him come to me and drink. Whoever believes in me, as the Scripture has said, streams of living water will flow from within him." John 7:38 NIV
This photo taken in the Indian Peaks Wilderness, July 2016 with Mt. Neva in the background.
A Perfect Waterdog Day
Early fall in the mountains is perhaps our favorite season. The summer monsoon has been pushed back by advancing Canadian cool air that brings a crispness to the atmosphere. The cool temperatures are invigorating after a long summer of hot days in the lower valleys. Though fall represents a coming season of decay and even death as leaves die, grasses wither and some animals prepare for hibernation, it still brings a reviving sense of life. Perhaps our most favorite activity on a clear, fall day is to hike a mountain peak, but on this particular day pictured here, we decided to try a mountain bike ride instead, and where better to go than one of the many trails located on the Grand Mesa.
Our bike ride took us along a dirt road track that wove in and out of forest and passed several reservoirs. The Grand Mesa boasts having over 200 such lakes and reservoirs. The high, flat-top mountain catches heavy snows most winters that feed these lakes. Popular with fishermen, they also provide great recreation. On this day, as we rode by Waterdog Reservoir, our attention was caught by the nearly cobalt blue waters reflecting the clear sky. Throw in the yellows and golds of changing aspen and willows and you have a beautiful and colorful scene to enjoy. Photo taken late Sept. 2012
"Meadow and Rock"
The Blue Lakes Trail out of Ridgway is a popular summer destination for hikers and backpackers. Located on the north side of what is usually called "Dallas Divide," the lakes offer a brief respite for hikers on a warm sunny day or climbers heading for Mt. Sneffels. While we have a photo of one of the Blue Lakes available (look under Alpine Waterscapes), in this photo we have chosen to feature the lush meadows nearby that stand out in sharp contrast to the rugged mountains as a backdrop.
Geologists have discovered upon mapping and studying the San Juan mountains a dozen and a half ancient "calderas." Dallas Divide is a group of mountains running east to west out of Ridgway that represents a portion of one of these calderas. In this photo taken mid-July, 2010, as we were hiking to the Blue Lakes to climb a 13er called "S.4," we paused here to photograph this contrastive scene. Notice the two enormous talus cones center and right and the "rock glacier" sweeping down from the left. These are typical geologic features in these mountains. The early morning light, deep shadows and lush, flowering meadow help offset the rugged mountains behind.
St. John the Baptist Church
In the small village of La Garita, located in Colorado's San Luis Valley, is a church with historic value. The "Capilla de San Juan Bautista" represents a Catholic church tradition that dates back to the 1870's. The removal of the Southern Ute Tribe by treaty from this area opened the door for settlers and nearby mining activities. La Garita was selected to serve as a parish church, rectory and cemetery. On June 24, 1879, the original parish church was dedicated. The church served as the parish church for this area until 1895. The original building burned down in 1924. A new church was erected almost immediately but by the 1960's had become abandoned. In 1973, a local women's craft cooperative, called "Artes de Valle" took over the building to sell their wares, but by 2000, the building was once again abandoned, even though it had been listed on the National Register of Historic Places.
In 2007, Father Joseph Vigil spearheaded a drive to restore the structure with significant donations from some local families. The building was then restored to its present condition and in 2012, the St. John Paul II Rosary Walk was completed on the east side and stands between the church and the Carneros Creek Cemetery.
The gleaming white walls and red roof, along with the unique steeple cross can be seen for some distance around and grabbed our attention as we headed into the La Garita mountains to climb some peaks. We were so impressed, we stopped here twice to collect a photo series of both the church and the rosary walk and beautiful displays of flowers located all about the walk.
HDR image taken in August of 2017.
Alpine Landscapes